Lael Wilcox Joins Gnarly Nutrition Athlete Team
April 21, 2021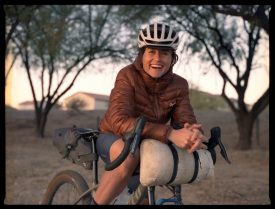 Salt Lake City, UT — Gnarly Nutrition is excited to announce the official signing of ultra-endurance cyclist Lael Wilcox to its athlete team.
Wilcox boasts a jaw-dropping cycling resume, most notably winning the 4,300-mile Trans Am Bike Race in 2016, and setting the record for the 2,750 mile Tour Divide in 2015.
More recently, Wilcox helped scout the official route of a brand-new 262-mile bikepacking route that starts and ends in Bogota, Colombia, and features 31,400 feet of elevation gain. After scouting, Wilcox completed the route entirely self-supported in just 39 hours and 14 minutes, setting the route's Fastest Known Time.
In addition to her impressive feats in the saddle, Wilcox prioritizes getting more women on bikes. She has hosted two international women's scholarships and also organizes a teenage-girls bicycle adventure program in her hometown of Anchorage, Alaska. The program, called Anchorage GRIT (Girls Riding Into Tomorrow), takes participants through a six-week program, which culminates in a three-day, 65-mile bikepacking trip from Anchorage to the end of Eklutna Lake.
With Gnarly Nutrition as an official sponsor, Wilcox will utilize the full lineup of Gnarly Nutrition products to fuel her training, racing and riding, and help elevate her performance goals through 2021. Lael has also been testing a new Gnarly endurance product set to launch later this year.
"Lael doesn't need Gnarly to be a successful rider. However, she is finding that with Gnarly's help, her energy is increased, her recovery time is reduced and she generally feels better," said Gnarly Nutrition CEO, Eli Kerr. "Lael constantly pushes her own possible and is passionate about getting others involved in the sport. These are values that align with Gnarly and its mission. We're grateful to partner with Lael."
"The folks from Gnarly have put a lot of thoughtfulness into our new partnership – we talk about recovery during multi-day bikepacking races, what I eat when I'm out there, how they can help me perform better and feel my best, and how I can pack this nutrition on my bike," Wilcox said. "One of their initial ideas is to donate $1,000 to getting a Tucson GRIT program off the ground. That really means a lot to me."
###
About Gnarly Nutrition
Born in Utah's Wasatch Mountains, Gnarly Nutrition is committed to educating and inspiring athletes at all levels. Gnarly provides honest, effective and great tasting sports nutrition that is NSF Certified and NSF Certified for Sport. Gnarly's full line features science-backed products free of hormones, GMOs, proprietary blends, antibiotics, or anything artificial.
For more, visit Gnarly's website or follow along on Instagram.