Labecki and Lamperti Add to Their Medal Tally at Pro Criterium National Championships
June 24, 2023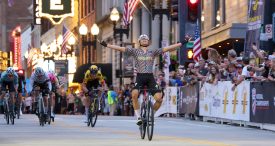 Coryn Labecki takes her 73rd career National Title and Luke Lamperti wins the Criterium for the third year in a row.
KNOXVILLE, Tenn. /ENDURANCE SPORTSWIRE/ – Coryn Labecki (Tustin, Calif.; Team Jumbo-Visma) and Luke Lamperti  (Sebastopol, Calif.; Trinity Racing) earned the Elite Criterium National Titles on the second day of the 2023 USA Cycling Professional Road Championships. The 1.1-mile course, held in downtown Knoxville, Tenn., proved challenging with its six corners and steep climb to the last corner. Labecki and Lamperti are previous winners of the event, with Lamperti earning the hat trick, winning in 2021 and 2022, and Labecki in 2016. Multi-time Junior Track World Championship Medalist Chloe Patrick (Carson, Calif.; Serious Cycling) earned the U23 Women's National Title and the Elite Women's bronze.
Elite Women
Kicking the night off with a high-intensity bang, 72 of the country's top women sprinters took on the 70-minute race. Through the race's first half, the group kept the tempo up, but no attack could come away for more than a half-lap. Teams like L39ion of Los Angeles and DNA Pro Cycling attempted to break away, but the field would not let them slip away.
With seven laps remaining, the attacks kept coming. Teams like CCB p/b LLG, DNA Pro Cycling, and L39ion of Los Angeles took turns at the front, testing the peloton's cohesiveness. But each time, any attempts were countered, making the race an all-out brawl for the final lap. As the bell rang at one lap remaining, the L39ion Lionesses, including defending champion Kendall Ryan (Ventura, Calif.), were lined up four deep at the front of the field. Behind them was a fight for position to get on the lead-out train. Labecki took the fifth spot in the field with half of a lap remaining, placing herself in contention for the final sprint. In a surprising move to the field, Labecki attacked the L39ion riders at the base of the final climb, charging uphill. Ryan was quick to respond and went toe-to-toe with Labecki. Coming out of the last corner, Labecki maintained her lead, sprinting full gas for the line, taking the win, and making this her 73rd national title across multiple disciplines and age-groups. Ryan took the silver, and Patrick rounded out the Elite Women's Podium.
When talking about coming to Pro Road Nationals every year, Labecki said, "Fun is what it's all about. I do the crit every year as a warm-up to get a feel for the field. I was really focused this year. I had a new tactic, and it worked out this year."
Labecki is no stranger to the stars-and-stripe jersey, having graced the podium's top step 72 times before this event. "This is my 73rd national title now. I was stuck at 72 for a while there, and I'm glad to change that count. That feeling doesn't change. I've been doing this for a while now, and there's nothing that beats crossing the line with your hands in the air. It really doesn't get better than that." Her last national title was in 2018, when she won the Women's Road Race in Knoxville, and she previously won the Women's Professional Criterium Championship in 2016.
To win the title, Labecki had to try new tactics, "I'm open for however the race plays out. I put a couple of feelers out, trying to get the race going. I think it was pretty clear that it was going to come down to a bunch sprint. I put all my eggs in a basket and jumped early, making them work for it."
Results
1. Coryn Labecki (Tustin, Calif.; Team Jumbo-Visma)
2. Kendall Ryan (Ventura, Calif.; L39ion of Los Angeles)
3. Chloe Patrick (Carson, Calif.; Serious Cycling)
U23 Women
Adding to her bronze in the Elite Women's Criterium Championship, 18-year-old Patrick earned herself the U23 Women's National Champion title as the best placing rider aged 19-22. Patrick, a track cycling multi-time national champion, was excited to see her efforts transfer to the elite and U23 levels. "It feels so unexpected. I wanted to come here as a first-year non-junior just to get experience. See what I could do, see what the race is about. I'm just so shocked and excited to get the title. I've put in a lot of work to get here. I'm so excited to see it all payoff."
Fellow Southern California native Makayla MacPherson (Corona, Calif.; Human Powered Health) earned silver, and Jane Tullis (Indianapolis; Goldman Sachs ETF's Racing) the bronze.
Results
1. Chloe Patrick (Carson, Calif.; Serious Cycling)
2. Makayla MacPherson (Corona, Calif.; Human Powered Health)
3. Jane Tullis (Indianapolis; Goldman Sachs ETF's Racing)
Elite Men
Ninety-five men lined up for the Elite Men's Criterium National Championship. As the starter's pistol went off to begin the race, athletes revved their engines and kept the throttle open for the entirety of the 80-minute race. Like the Elite Women's race, the Men's teams played cat and mouse, with teams attacking, counter-attacking, and recovering. The race saw a near-constant stream of changing leaders.
As the lap cards flipped to show nine to go, the peloton leveled up the intensity. Attacks from Project Echelon, Miami Nights, Miami Blazers, L39ion of Los Angeles, and Aevolo animated the front of the race, keeping things lively. The L39ion squad took charge, putting five men at the front in an attempt to control the race. Not to be locked out of the front, Lamperti and Colby Simmons (Durango, Colo.; Team Jumbo-Visma Development) stuck to the team like glue, shadowing their every move. L39ion attacked, with Gavin Hoover (Manhattan Beach, Calif.), leading out teammate Tyler Williams (Santa Rosa, Calif.) into the race's final climb. The climb was a battle between Williams, Lamperti, and Simmons, each dancing on the pedals to get up the hill. Lamperti was able to get on Williams' wheel and was the first out of the final corner to take his third win.
Lamperti commented on being the lone rider for Trinity Racing, "It's a good course to freelance, I will say that. For sure, L39ion has a strong team and Tyler was right there for a win. Luckily he hit his pedal in the last two corners, which is a tough way to lose your speed. It's a good course to freelance and probably my favorite for sure. So we'll see where we go next after Knoxville."
Lamperti has had nothing but incredible memories for his three wins in Knoxville. He said, "The amount of fans that have come back year after year and ask for another picture and you remember the same people, the same kids, and everyone in the town. I mean, they really get behind us. Being here in Knoxville has been amazing. And I can't thank them enough for how good they've been the last seven years, and in the last three for me."
Results
1. Luke Lamperti  (Sebastopol, Calif.; Trinity Racing)
2. Colby Simmons (Durango, Colo.; Team Jumbo-Visma Development)
3. Tyler Williams (Santa Rosa, Calif.; L39ion of Los Angeles)
Up Next
Racing culminates on Sunday with the Women's and Men's Road Races. The women's race begins at 9:00 am EDT and does ten laps of the 6.7-mile course. The men's race will begin at 1:15 pm EDT and will complete 17 laps. The races will be broadcast locally on WATE and streamed nationally on FloBikes. Click here to watch the streams on Sunday and catch a replay of tonight's Professional Criterium National Championships.
Visit USACycling.org for more information on the athletes, events, and membership programs, and follow @USACycling across all channels for the latest on Team USA.
For more information, contact Tom Mahoney at tmahoney@usacycling.org.
ABOUT USA CYCLING (usacycling.org)
USA Cycling is the national governing body for the sport of cycling and oversees the disciplines of road, track, mountain bike, cyclocross, and BMX. USA Cycling's mission is to grow participation and engagement with the sport of bicycle racing and achieve sustained international success across all cycling disciplines. USA Cycling supports cyclists of all levels and abilities, from those just beginning in the sport to international-caliber­ athletes. The organization identifies, develops, and selects cyclists to represent the United States in international competition through the support of youth and interscholastic programs, amateur and grassroots bike racing events, athlete development programs, and operational support for cycling clubs, racing teams, and event organizers. USA Cycling has a membership of 80,000, sanctions over 2,500 events annually, and is a member of the Union Cycliste Internationale (UCI) and United States Olympic & Paralympic Committee (USOPC).