'La Vuelta Virtual' starts along the real La Vuelta '22
August 18, 2022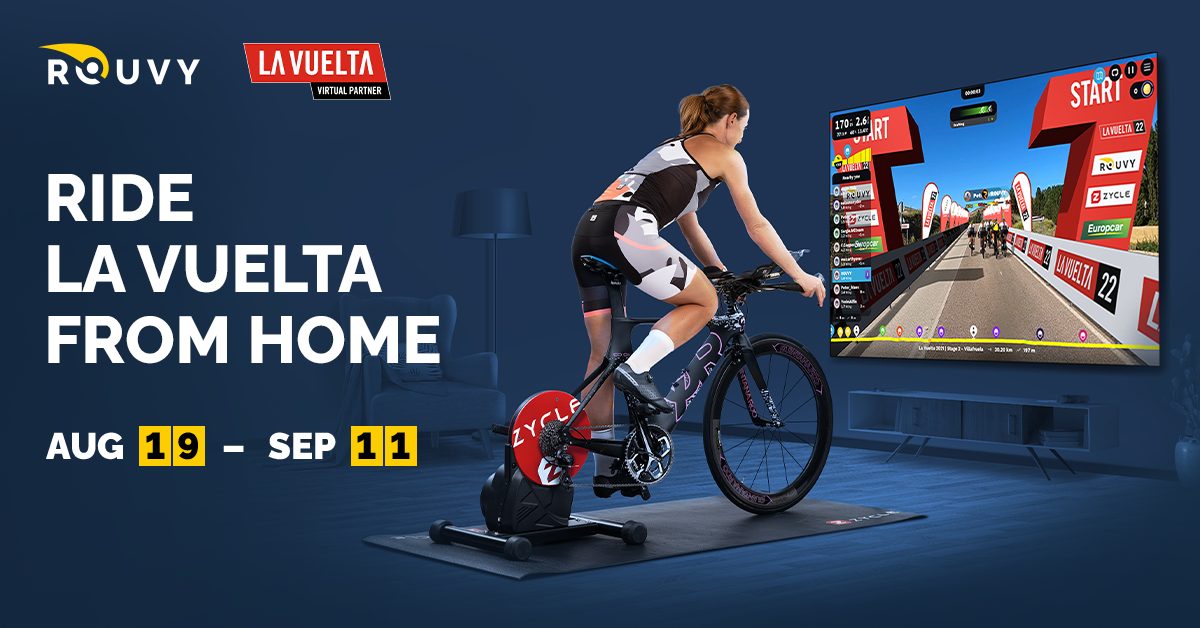 Vuelta a España kicks off on Aug 19th in Utrecht in the Netherlands. On the same day, ROUVY, the official, multi-year provider of La Vuelta Virtual, launches the immersive, multi-stage digital version of the 2022 Spanish Grand Tour. Available for anyone from home, the community racers will fight along with the pros on the same maps. Racers have the unique opportunity to ride the real LV roads online even before the World Tour stars do it. The in-person Grand Finale for LV Virtual will wrap up the series on Sept 11 in Madrid with the best of the racers competing on Zycle stationary bikes in the LV VIP zone. 15 racing days and 800 digitized kms from the LV 22 promise discovery of new beautiful landscapes, exciting battles and great valuable prizes.
Madrid, Spain / August 18th, 2022 /ENDURANCE SPORTSWIRE/ – The 77th edition of the real La Vuelta 22 will start on Friday the 19th (and finish on Sunday the 11th of September) from Utrecht (the Netherlands) to Madrid, World Capital of Sports 2022. The Spanish Grand Tour in 2022 will see the participation of 23 teams: 18 World Tour Teams, 2 Pro Teams and 3 wildcards, awarded to 3 Spanish teams. 21 stages with 180 riders through 30 cities around NetherLands and Spain are ready to bring the unforgettable action and show.
Together with Unipublic, ROUVY is inviting everyone to join Primož Roglič, Dennis Rohan, Alejandro Valverde, Mads Pedersen, Remco Evenepoel and the likes with the real pedaling effort on a trainer from one's training room. The best of LV and 2022 parcours of the Spanish Grand Tour are continuously released here (62 so far). Riders can look forward to discovery of the new scenic views in the regions of Andalusia, Malaga, Extremadura and the Netherlands (where the first 3 stages take place). ROUVY gives anyone the unique ability to travel virtually around places you can only dream of visiting! Just ride in some of the most impressive places of Spain in 1:1 ROUVY's precise and fun augmented reality! Feel the heat of Spain from your cool home and race virtually to be like a pro!
'LA VUELTA VIRTUAL' RACE SCHEDULE
Aug 19 | La Vuelta 2022 | Stage 1 – Utrecht / NL | 15.4 km | TT
Aug 20 | La Vuelta 2022 | Stage 2 – Elst / NL | 26 km
Aug 21 | La Vuelta 2022 | Stage 3 – Hoogerheide / NL | 25.8 km
Aug 23 | La Vuelta 2022 | Stage 4 – Antoñana | 27.4 km
Aug 24 | La Vuelta 2020 | Stage 3 – La Laguna Negra | 25.7 km
Aug 27 | La Vuelta 2021 | Stage 20 – Murxido | 14.8 km
Aug 28 | La Vuelta 2021 | Stage 11 – Valdepeñas de Jaén | 27.7 km
Aug 30 | La Vuelta 2022 | Stage 10 – Alicante | 30 km | TT
Aug 31 | La Vuelta 2022 | Stage 11 – Aqua Amarga | 18 km
Sept 3 | La Vuelta 2022 | Stage 14 – Sierra de la Pandera | 10 km
Sept 4 | La Vuelta 2022 | Stage 15 – Sierra Nevada | 15.2 km
Sept 6 | La Vuelta 2022 | Stage 16 – Seville | 33.2 km
Sept 7 | La Vuelta 2022 | Stage 17 – Cabeza la Vaca | 23.9 km
Sep 10 | La Vuelta 2022 | Stage 20 – Talavera de la Reina | 16 km
Sep 11 | La Vuelta 2022 | Stage 21 – Madrid | 24.9 km
With 4 different time zones (EU, Asia, Pacific and Atlantic) for every race day, the events are available at convenient time slots for anyone across the globe. Note two TT stages on the list when drafting is turned off.
Registration for races is free of charge and NOW OPEN HERE.
'LA VUELTA VIRTUAL' GROUP RIDES
For the warm-up, between some stages, cyclists and fans of all fitness levels are invited to ride with the pros in a series of non-demanding group rides where all riders are kept together in a pack automatically.
Aug 25 | La Vuelta 2022 | Stage 5 – Puerto de Herrera | Group Ride #1
Sept 1 | La Vuelta 2022 | Stage 12 – Pico de Los Reales | Group Ride #2
Sept 8 | La Vuelta 2022 | Stage 10 – Alicante | Group Ride #3
Group rides start at 19:00 CET. Respective GR leaders from the pros will be announced additionally.
Register for the group rides here.

PARTNERS AND PRIZE RULES
Prizes are presented by ZYCLE, the smart trainer manufacturer from Spain; ROUVY and UniPublic, the organizer behind La Vuelta.
One voucher for cycling equipment worth 1,000 EUR
10 real La Vuelta jerseys
30 ROUVY annual subscriptions
for every racer – virtual jersey for the avatar for each stage; different virtual jerseys to be given out.
Prize winners will be selected in the random draws; every participant of at least 1 race has a chance to win.
La Vuelta Virtual Grand Final
After a series of qualification races, the epic grand finale on the ZYCLE smart ZBikes will take place as the in-person event in Madrid on Sept 11th, at the closing stage of La Vuelta. Along with the qualified finalists, some former pro riders will join the battle for the crown of the virtual peloton. The stage will be located near the main LV show stage, so the finalists will be able to show off the power they have in front of multiple cheering spectators. Winners of the VIP passes for La Vuelta 2022 will join the grand tour on site and go 'behind the scenes' of one of the Vuelta stages to watch the race from the mechanic's car or even from a helicopter!
Cyclists wishing to participate in La Vuelta series must have a smart trainer (if you don't have one, get one from ZYCLE at a special discount), a bike, and a device with ROUVY – a phone, tablet, computer or AppleTV, connected to the Internet. A valid ROUVY account is also required and new riders are offered an additional 14-day trial to be part of the action, for free.

###
//Press visuals are here.
About La Vuelta
La Vuelta is Spain's most important cycling race and one of the most important worldwide. Organized for the first time in 1935, La Vuelta has grown exponentially over its 80+ year history. Currently, the Spanish tour is a benchmark race that has expanded its borders with regards to its first editions, which took place only on Spanish soil. Today, La Vuelta is an international race that brings together the best riders in the world and that expands its prestigious victory tally by adding the world's leading cyclists to it, year after year.
About ROUVY
ROUVY is a digital racing platform that brings the experience of real-life cycling competitions to your home. ROUVY offers thousands of exciting virtual roads to join the pro peloton online or compete with friends. Overlaying augmenting avatars over the geo-synced video footage, ROUVY makes home training both realistic and fun. Cycling enthusiasts and the most demanding athletes are welcome to cycle the world from home to stay fit or get ready for the next race!
About ZYCLE
ZYCLE is a smart trainer manufacturer from Valencia (Spain). The company is on its way to revolutionizing the cycling and home training markets with its range of connected equipment. The technical expertise and R&D have allowed it to create turbo trainers and a smartbike of the highest quality.
PRESS CONTACTS
Enquiries In English: Yuriy Ryashko, press@rouvy.com, +420 778 488 077
Enquiries in Spanish: Pablo Osorio, posorio@unipublic.es, +34 663 716 884