LA Sweat and Vittoria Tires announce continued multi-year partnership
March 2, 2023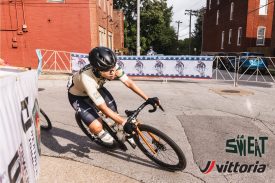 /ENDURANCE SPORTSWIRE/ – We are proud to announce our continued partnership between LA Sweat Racing and Vittoria Tires. LA Sweat Racing is a professional women's cycling team that competes in the US National Calendar. Vittoria Tires is a world-renowned tire manufacturer, known for its quality and performance.
"Vittoria is proud to partner with LA Sweat for another year," said Karim Pine, Vittoria Industries North America Managing Director. "In addition to being fantastic athletes, LA Sweat reminds us that racing is supposed to be fun at the end of the day. We fully support their mission for inclusion—and fun—in cycling."
This partnership brings together two organizations that share a passion for cycling and a commitment to excellence. With Vittoria Tires, LA Sweat Racing will benefit from the strength and reliability of the tires, while also taking advantage of Vittoria's commitment to innovation and research.
"We are thrilled to continue our partnership with Vittoria and bring the highest quality of road tires to our riders. Vittoria not only believes in our athletes but also our mission is to make cycling accessible to everyone, and partnering with Vittoria Tires ensures that we are providing the best racing and training experience." – Kelli Sam Owner/Founder
The partnership will create a great opportunity for LA Sweat Racing to further its competitive edge, as the team continues its pursuit of success in the National Calendar. The team's riders will now have access to the latest and greatest tires from Vittoria, and the support of an organization dedicated to helping them reach their goals.
About LA Sweat:
We believe it only takes a few women to influence a peloton, and that cycling is a place for everyone. We're on a mission to empower other women to cut the crap and be unafraid to get out there and ride. In a culture of power profiles, recovery tights, and carbon bottle cage bolts, it's nice to be reminded there are still women out there who just want go fast and have fun. Because bikes are fun. Riding is fun. Racing is fun.
About Vittoria Industries North America
Vittoria is the world's leading brand of performance bicycle tires and accessories, known for its unique graphene-enhanced compounds and advanced cotton & nylon casings. Vittoria produces at its factories in Thailand and the Netherlands and sells through subsidiaries in Asia, Europe, and North America. With its global capabilities, Vittoria develops bicycle tires and accessories for all performance levels in road, off-road and urban use. Vittoria Group is owned by its managers and the investment fund Wise Equity. More info on www.vittoria.com