KX3 Lifestyle + Coaching Guides Athletes to Reach Their Personal Gold
September 7, 2022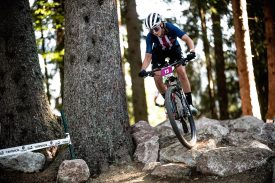 KX3 athletes excelling at NICA and Leadville 100, to World Cup, World Championships, and beyond
BOISE, ID – September 7, 2022/ENDURANCE SPORTSWIRE/ – Under the leadership of three-time Olympic gold medalist, Kristin Armstrong, KX3 Lifestyle + Coaching (KX3) introduced one-on-one cycling coaching services at the start of this year. The current KX3 coach roster includes recent Olympians, World Champions, and National Champions—all looking to help others reach their goals on the bike; and results are shining bright for KX3 athletes.
KX3 athlete, Haley Batten, brought home bronze in the 2022 XCO Mountain Bike World Championships in Les Gets, France; and another bronze alongside KX3 athlete and Team USA relay teammate, Maddie Munro. For Batten, the World Championships were on the heels of two strong finishes on the elite World Cup circuit—a 3rd place at Mont-Ste-Anne and a 7th place at Snowshoe; while Munro grabbed a pair of U23 World Cup podiums, 2nd at Mont-Ste-Anne and 3rd at Snowshoe.
"I've just finished racing the 2022 Mountain Bike World Championships, coming away with a strong ride and lots to take away from the race," said Maddie Munro, KX3 athlete. "KX3 has pushed and expanded my limits as an athlete in the short amount of time we have been working together and I think it's fair to say the work is paying off! Not only does Kristin guide me on the bike, but provides encouragement, support, and knowledge in all aspects of racing and being an athlete. A very big thank you to KX3 for the incredible coaching and being a part of my village!"
KX3's coaching philosophy centers around helping athletes at any level take a holistic approach to their goals, working to help clients eliminate the guesswork of how to get there, providing support and accountability along the way, and then building on clients' confidence and accomplishments.
"We're excited to be offering both one-on-one and team coaching to juniors, men, and women looking to up their cycling game," said Kristin Armstrong, 3x Olympic Gold Medalist and Co-Founder of KX3 Lifestyle + Coaching. "With the results we've been seeing through our personalized coaching plans, we wanted to extend our expertise to support team coaches like those across the National Interscholastic Cycling Association (NICA), for example. It's a rewarding way to come full circle in sport and be able to help others reach their personal gold, whatever that might be, and I'm thrilled to be working with KX3 coaches, Emma White, Kaitie Keough, Haley Batten, and Sarah Barber."
One of the first teams to use the KX3 team coaching platform is Mountain Ridge High School in Herriman, Utah. "At Mountain Ridge High School we wanted to provide a coaching solution that provided an attainable track for every athlete, from the casual rider to those seeking to be on the podium," said John Kemp, Mountain Ridge High School Head Coach. "KX3 Coaching helped us achieve that desire by providing a customized day-by-day program that has helped all of our student athletes learn how to train properly, how to develop better bike handling skills, and ultimately reach their goals."
KX3 offers coaching designed specifically to support junior athletes, including entry level juniors who are looking for basic structure—to the highest level of coaching expertise in creating pathways to high performance for elite juniors. Co-founder Nicola Cranmer, has been on the forefront of junior athlete development in cycling for nearly two decades. Under her leadership and guidance, her team (now Virginia's Blue Ridge TWENTY24 Pro Cycling) has been awarded the USA Cycling Centers of Excellence Award for 15 consecutive years. This exclusive designation is awarded to select junior and U23 development teams that excel in the development of young cyclists into nationally competitive athletes.
"Through KX3 Lifestyle + Coaching, we bring decades of experience to our youth-specific coaching plans," said Nicola Cranmer, Co-founder, KX3 Lifestyle + Coaching and Founder, Virginia's Blue Ridge TWENTY24 Pro Cycling. "The platform is an opportunity to reach more girls and boys with a holistic approach that balances training and education. Teaching our young athletes valuable lessons on and off the bike is critical for maximizing their potential for academics, sports and business, and we are excited to meet junior cyclists where they are and help them excel through purposeful progression that will support them both in sport and in life."
For juniors who may already have a coach or aren't looking for a coach, KX3 has introduced HALEY'S HUB, a free membership program that invites junior cyclists to seek excellence with Haley Batten on her journey to the 2024 Olympics in Paris. HALEY'S HUB is built to create a shared learning space for young athletes to help them go beyond the "norm" in racing and life. "I am thrilled to have the opportunity to build this platform alongside KX3 to help develop the future of cycling," said Batten. "Throughout my journey from a junior racer to an Olympian, I have had many incredible mentors and learning opportunities. I believe that this platform can create community and share insightful experiences and resources to help the next generation prepare for big goals."
Recent KX3 Athlete Highlights:
Coached by Kristin Armstrong, Shayna Powless is currently in Europe and has raced to a handful of top 10's as she has helped secure her teammate a win and several podium finishes. This is the first time in Europe for Shayna, and she'll be racing through Ardeche (mid-September) as she prepares for the Track World Championships in October.
Coached by Emma White, Samantha Scott will represent USA Cycling in Wollongong, Australia later this month, having been selected as a member of the 2022 Road World Championships team. She also won the first two Idaho NICA Varsity races of the year, her first venture into MTB racing.
Melisa Rolins, also coached by White, raced to a Top 10 result at the Leadville Trail 100 MTB.
Cuban sensation Marlies Mejias of Team VBR Twenty24 has posted 9 wins and 9 podiums this season upon her return to racing after taking two years off to have her baby girl. KX3 is a partner of the professional and junior development cycling team, Team VBR Twenty24.
About KX3 Lifestyle + Coaching
KX3 Lifestyle + Coaching (KX3) provides a trusted community and simple-to-follow blueprint for cyclists to gain confidence, strength, and performance on the bike, through indoor/outdoor cycling coaching programs, supportive and educational content, and a place for connection. KX3 was co-founded by mom, wife, entrepreneur, coach, and 3-time Olympic Gold Medalist, Kristin Armstrong, along with partners Nicola Cranmer and Heather Foster. The name KX3 is a tribute to Kristin and her three gold medals won in the women's individual time trial in the 2008, 2012, and 2016 Olympic Games. Start training with KX3 Lifestyle + Coaching today at KX3LifestyleAndCoaching.com. To learn more, follow us on Instagram @KX3LifestyleAndCoaching or visit KX3LifestyleAndCoaching.com.
###