Kristian Blummenfelt Captures Victory At The 2022 Intermountain Healthcare IRONMAN 70.3 World Championship Presented By Utah Sports Commission
October 29, 2022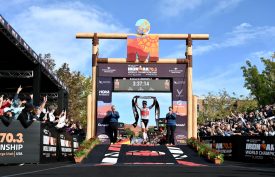 Blummenfelt feels at home in St. George where he earns IRONMAN 70.3 World Championship crown after IRONMAN World Championship win in May; Becomes first triathlete to ever win WTS World Title, Olympic Gold Medal, IRONMAN 70.3 World Championship, and IRONMAN World Championship; American Ben Kanute finishes in second-place, with Magnus Ditlev (DNK) coming in third, followed by Mika Noodt (DEU) and Frederic Funk (DEU) finishing in forth and fifth-place, respectively
ST. GEORGE, Utah (Oct. 29, 2022) – Adding to his long list of recent achievements, 28-year-old Norwegian Kristian Blummenfelt commanded the race today, coming in first place at the 2022 Intermountain Healthcare IRONMAN® 70.3® World Championship presented by Utah Sports Commission. The 2021 IRONMAN World Champion and Olympic gold medalist held the competition at bay with a 22:53 swim, a 2:01:03 bike, and a 1:11:39 half marathon to break the tape in 3:37:14, just weeks after a third-place finish at the 2022 VinFast IRONMAN World Championship.
"My goal was to try to put pressure on Magnus (Ditlev) and Gustav (Iden) early on the bike. I felt strong all the way. On the run I tried to hold back as much as possible before putting it in second gear," said Blummenfelt.
The second day of racing opened with a 1.2-mile swim in Sand Hollow Reservoir, where Aaron Royle (AUS), Marc Dubrick (USA), and Ben Kanute (USA) formed an immediate gap on the main group. An unfortunate wrong turn at one of the buoys by Royle resulted in the chase group catching back onto the leaders, stringing the field out. Near the end of the swim, the lead three put in a surge to form a small break, but it was still a mass of athletes storming into the first transition area together.
Saturday's race in St. George, Utah showcased the men's professional field, with many top athletes, including Blummenfelt, just three weeks off of the 2022 VinFast IRONMAN World Championship in Hawai`i. In the mix were reigning IRONMAN World Champion Gustav Iden, as well as Blummenfelt and many other IRONMAN 70.3 triathlon specialists.
Royle and Dubrick entered transition 1 first, with Kanute shortly behind. Eric Lagerstrom (USA) led a large group 20 seconds behind the leaders, including Miki Taagholt (DEN) and Germany's Frederick Funk. Pre-race favorite Kristian Blummenfelt (NOR) was 30 seconds back, with Gustav Iden (NOR) and Magnus Ditlev (DEN) 45 seconds back.
After a lightning-fast transition, the current IRONMAN 70.3 record holder Blummenfelt stormed onto the bike course, taking the lead immediately. Kanute, Taagholt, Ditlev, and Funk worked hard over the opening miles of the bike behind the Norwegian.
At the halfway point of the 56-mile bike ride, Blummenfelt was still in command of the race with Funk, Taagholt, Kanute, and Ditlev in line behind him. After the Snow Canyon climb, Ditlev rode himself to the front where he stayed until the end of the bike.
With Ditlev into the second transition and Blummenfelt and Funk on his heels, the chase was on. Blummenfelt took off on the first few miles of the run as he had on the bike, commanding the lead. Iden was down five minutes after the bike ride and later dropped out of the race. Kanute surged ahead of the Norwegian at mile 2, taking the lead. Blummenfelt stayed in his shadow, apparently content to let the American lead the pace. Ditlev remained about a minute back, while Taagholt led a group over three minutes in arrears.
At mile 10, a calm, confident Blummenfelt decided to make his move, which he later said was reminiscent of his effort at the mixed relay at the 2020 Tokyo Olympics. The smiling athlete ran to the win, high-fiving the thousands of fans that turned out to watch in St. George, and raising the banner once again, as he has so many times in his illustrious career.
Though Kanute was unable to ultimately keep the pace with Blummenfelt, he fought hard, earning his second IRONMAN 70.3 World Championship second place finish. Ditlev ran across the line in third, almost three minutes back, with the German duo of Mika Noodt and Frederick Funk taking fourth and fifth.
While pleased with his accomplishments of a WTS World Title, Olympic Gold Medal, IRONMAN 70.3 World Championship, and IRONMAN World Championship, Blummenfelt, shared his third-place finish in Hawai`i still leaves him hungry: "You can't get a revenge in Kona outside of Kona–it's been on my mind every day for three weeks now. I have to go back there to finish my business."
But redemption was felt by the likes of Ben Kanute, who said at the finish line that the year has been really hard, due to sickness and other setbacks: "I hit a new level of fitness coming into this race. I just went out there and took it. Kristian did all the hard work at the front, I was just super focused trying to stay in the moment, enjoy the day, and enjoy racing. That was the most fun I've had out on a race course in a long, long time. To see where I stacked up in the world is what I really wanted, this is more than I could've asked for."
In what has been significant performances for the Scandinavians at recent world championship events, Magnus Ditlev shared how important it is for his fellow competitors to push each other. "It is crazy, the times we live in with the Danish and Norwegian [triathletes], it is very positive, inspiring. I can only speak for the Danish but last year Daniel came in third and Miki was forth, so we sort of push each other in a way and not try and root against each other but bring out the best," said Ditlev.
Top five professional men's results:
| | | | | | |
| --- | --- | --- | --- | --- | --- |
| PLACE | ATHLETE | SWIM | BIKE | RUN | FINISH |
| 1 | Kristian Blummenfelt (NOR) | 22:53 | 2:01:03 | 1:11:39 | 3:37:14 |
| 2 | Ben Kanute (USA) | 22:35 | 2:01:47 | 1:11:56 | 3:38:03 |
| 3 | Magnus Ditlev (DNK) | 23:06 | 1:59:59 | 1:14:07 | 3:39:54 |
| 4 | Mika Noodt (DEU) | 22:51 | 2:04:15 | 1:11:44 | 3:40:53 |
| 5 | Frederic Funk (DEU) | 22:50 | 2:00:41 | 1:16:43 | 3:42:36 |
A replay of today's men's professional competition can be viewed on Outside+.
For more information about the 2022 Intermountain Healthcare IRONMAN 70.3 World Championship presented by Utah Sports Commission event, please visit www.ironman.com/im703-world-championship. To learn more about the IRONMAN and IRONMAN 70.3 brands and series of events, please visit www.ironman.com. Media inquiries may be directed to press@ironman.com.
** Terms and Conditions: Footage and photography is provided courtesy of IRONMAN for news and editorial coverage within 48 hours of the event and is not to be archived. Media may use up to a total of two minutes of video. The B-Roll packages are not provided for the intent of posting the footage in its entirety. Any commercial use or other use of the footage and or photos is strictly prohibited unless a separate written license is obtained from and signed by an authorized representative of IRONMAN. Additional terms and conditions can be found here. Usage of materials constitutes acceptance of terms. **
###
About Intermountain Healthcare
Located in Utah, Idaho, and Nevada, Intermountain Healthcare is a nonprofit system of 25 hospitals, 225 clinics, the Intermountain Medical Group with some 2,700 employed physicians and advanced care practitioners, a health plans division called SelectHealth, Homecare, and other health services. Helping people live the healthiest lives possible, Intermountain is committed to improving community health and is widely recognized as a leader in transforming healthcare by using evidence-based best practices to consistently deliver high-quality outcomes and sustainable costs.
About Utah Sports Commission
The Utah Sports Commission was created to be a catalyst for Utah in its Olympic legacy efforts and to help enhance Utah's economy, image, and quality of life through the attraction, promotion, and development of national and international sports. Since the 2002 Olympics and Paralympic, the Utah Sports Commission has attracted nearly 900 major events to the state. The Sports Commission works closely with communities, sports entities, and organizations to provide event services ranging from the bid process, on-site logistics, volunteer coordination, sponsorships and promotional opportunities, and other related services. It is a not-for-profit 501(c)3 business league and Utah Sports Commission Foundation, a not-for-profit 501c3 charitable organization, is governed by an all-volunteer Board of Trustees consisting of statewide sports, business, community, and government leaders. For more information, visit www.utahsportscommission.com and follow us on Twitter, Instagram and Facebook.
About the IRONMAN 70.3 World Championship
In 2006 the inaugural IRONMAN® 70.3® World Championship was held in Clearwater, Florida becoming another test for the world's elite triathletes. Since that auspicious beginning, the IRONMAN 70.3 World Championship has grown in stature and popularity moving first to Henderson, Nevada in 2011, where athletes encountered a more challenging terrain and then to Mont-Tremblant, Quebec—its first stop on the new "global rotation" for the IRONMAN 70.3 World Championship. The event reached European soil for the first time ever in 2015, with Zell am See, Austria, hosting an epic and memorable event. In 2016, the race moved from the mountains to the beaches of the Sunshine Coast in Queensland, Australia. In 2017, the race returned to the United States, taking place in Chattanooga, Tennessee where it became a two-day event for the first time. In 2018, the event reached the African continent for the first time and was hosted in Nelson Mandela Bay in South Africa. Continuing the rotation, 2019 saw the French Riviera and Nice, France play host to the ever-growing IRONMAN 70.3 World Championship event. After a year in which the event was not able to take place due to a global pandemic, the race returned in 2021 with over 3,500 athletes competing in St. George, Utah. The event again took place in St. George, Utah, returning to a two-day format on October 28-29, 2022, before shifting to Lahti, Finland on August 26-27, 2023 and Taupō, New Zealand on December 14-15, 2024. Historically, more than 200,000 athletes have participated annually in a series of qualifying races, consisting of over 100 global events. Hosting more than 5,000 athletes from around the world, participants in the IRONMAN 70.3 World Championship have ranged in age from 18 to 85-plus. For more information, visit www.ironman.com/im703-world-championship.
About The IRONMAN Group
The IRONMAN Group operates a global portfolio of events that includes the IRONMAN® Triathlon Series, the IRONMAN® 70.3® Triathlon Series, the IRONMAN® Virtual Racing™ (VR™) Series, 5150™ Triathlon Series, the Rock 'n' Roll® Running Series, the Rock 'n' Roll Virtual Running™ Series, IRONKIDS®, World Triathlon Championship Series, premier running events including the Standard Chartered Singapore Marathon™ and City2Surf®, UTMB® World Series events including Tarawera Ultra and Ultra-Trail Australia™, Epic Series™ mountain bike races including the Absa Cape Epic®, road cycling events including Haute Route®, and other multisport races. The IRONMAN Group is the largest operator of mass participation sports in the world and provides more than a million participants annually the benefits of endurance sports through the company's vast offerings. Catering to the full athlete experience, the company portfolio also includes FulGaz® virtual cycling, the most realistic indoor riding experience connected fitness application aimed at preparing athletes for real-world events. Since the inception of the iconic IRONMAN® brand and its first event in 1978, athletes have proven that ANYTHING IS POSSIBLE® by crossing finish lines around the world. Beginning as a single race, The IRONMAN Group has grown to become a global sensation with hundreds of events across 55+ countries. The IRONMAN Group is owned by Advance, a private, family-owned business. For more information, visit www.ironman.com/about-ironman-group.
About Advance
Advance is a private, family-held business that owns and invests in companies across media, entertainment, technology, communications, education and other promising growth sectors. Our mission is to build the value of our companies over the long-term by fostering growth and innovation. Advance's portfolio includes Condé Nast, Advance Local, Stage Entertainment, The IRONMAN Group, American City Business Journals, Leaders Group, Turnitin, 1010data and Pop. Together these operating companies employ more than 17,000 people in 29 countries. Advance is also among the largest shareholders in Charter Communications, Warner Bros. Discovery and Reddit. For more information visit www.advance.com.
DOWNLOAD:
VIDEO – Credit IRONMAN® – DOWNLOAD