KINeSYS Sunscreen Announces 2023 Brand Ambassadors
April 5, 2023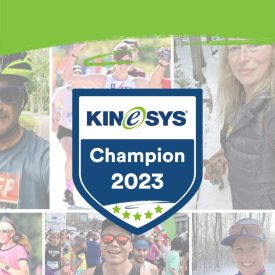 Diverse athletes and outdoor enthusiasts who champion the brand
Vancouver, Canada, 05th April 2023 /ENDURANCE SPORTSWIRE/ – KINeSYS Performance Sunscreen is proud to announce our roster of 2023 KINeSYS Champions. Now in its fifth year, the Brand Ambassador program is a group of 35 individuals from all walks of life. A mix of professional athletes and keen amateur sporting enthusiasts, the program aims to highlight the importance of sun protection for those who are passionate about keeping active in the outdoors.
"Our Champions represent the diverse range of athletes, and outdoor enthusiasts that make up the KINeSYS community. We have Champions who are avid runners, pickleball players, mountain bikers and keen adventures." – Lisa Heggie, KINeSYS CEO.
In the last four years, our hugely successful program has included many outstanding people. This year, we have invited a number of our 2022 Champions to return.  We invited those who have shown exemplary performance in promoting sun safety and representing the KINeSYS brand.
As a small, family-owned brand we value authenticity, which is why these Ambassadors were chosen to be the face of KINeSYS.  They are the champions of our brand; real people with real stories, who all use and love our products.
To meet the 2023 KINeSYS Champions and for more information about program, click here.
About KINeSYS Performance Sunscreen
KINeSYS Performance Sunscreen is a leading family-owned sunscreen manufacturer based in Vancouver, Canada. For 25+ years, the brand has been developing and distributing high-performance sunscreens and continues to manufacture their sunscreens and components in North America. KINeSYS exists because they're just like you. Parents, runners, skin cancer survivors, hikers, outdoor lovers. Available through speciality Retail Partners in the USA, Canada and Australia; and online at www.kinesysactive.com and www.kinesyactive.ca.
Media Contact
Lisa Heggie
CEO / WILC Healthcare Inc.
1.888.546.3797 ext. 710
lisa@kinesysactive.com