Kilimanjaro 2 Natron (K2N) Stage Race partners with Grumeti Fund
March 10, 2022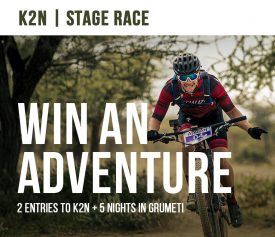 Win a team entry to this four-day mountain bike stage race and an unforgettable wildlife safari
For immediate release/ENDURANCE SPORTSWIRE/ – Push your limits while conserving Africa's wild places at this year's Kilimanjaro 2 Natron (K2N) Stage Race. K2N has partnered with title sponsor Grumeti Fund to create a once-in-a-lifetime mountain bike safari experience. This is your chance to win a two-person team entry to the 2022 Grumeti Fund K2N Stage Race while funding community development and wildlife conservation initiatives in Tanzania.
What's included: The lucky pair of winners will receive a team entry (male, female, or mixed) to the Grumeti Fund K2N. This four-day mountain bike stage race takes place on the rugged backcountry trails of northern Tanzania, 31 May to 3 June, 2022. Participants will traverse stunning landscapes and vibrant wildlife areas as they make their way from the slopes of Mount Kilimanjaro to the shores of Lake Natron. Following the race, you and your teammate will enjoy 6+ days of wildlife viewing: two nights at Nomad Tanzania's Serengeti Safari Camp, followed by three nights at the Grumeti Fund, visiting key projects including the rhino rehabilitation center and environmental education center. All meals, accommodations, and ground transportation are included in this prize package valued at more than $10,000.
How to enter: Every $10 donation buys one entry. Donations may be made from anywhere in the world via the K2N Stage Race website. The raffle will end on 23 March at 11:59 PM EAT (Eastern Africa Time). The winner will be announced on 24 March on Red Knot's Instagram page (@redknot_racing). Best of all, 100% of all donations will go to community development and Grumeti Fund's black rhino rehabilitation project. Enter now: https://www.k2nstage.com/raffle
About Grumeti Fund: The Grumeti Fund is a non-profit organization carrying out wildlife conservation and community development work in the western corridor of the Serengeti ecosystem in Tanzania. It is actively involved in preserving 350,000 acres of Serengeti wilderness.
About Red Knot Racing: Red Knot specializes in endurance racing and adventure travel in East Africa and is devoted to providing an unparalleled Tanzanian racing journey. More than 50-percent of total profits go towards supporting community development work in Tanzania.
About Nomad Tanzania: Nomad Tanzania is one of East Africa's original safari companies and is committed to creating amazing adventures while protecting Tanzania's wild places for future generations.
###
Media Contact 
Brett Harrison
Email: Brett@redknotracing.com
Social Media Channels
Instagram: https://www.instagram.com/k2nstage/
Facebook: https://www.facebook.com/k2nstage/
For More Information: https://www.k2nstage.com/
Images: https://www.dropbox.com/sh/tvcdtwpgz6cfrzo/AACzsBXdcFVf56OGESIHq_rPa?dl=0
Photo credit: K2N Stage Race
Video:
https://youtu.be/zssYTfh3oSw
Video credit: K2N Stage Race with thanks to presenting sponsor Specialized Bicycles