Kerrville Tri and GU Energy Labs Join Forces to Power Athletes
August 10, 2023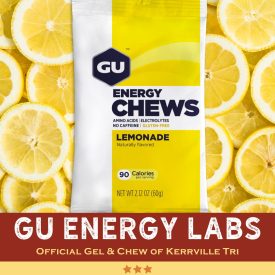 Triathletes to Receive Nutrition on Course
Kerrville, Texas, August 10, 2023 /ENDURANCE SPORTSWIRE/ – Kerrville Triathlon Festival is excited to announce its continuing partnership with GU Energy Labs for the third year in a row. The company will be the official Energy Gel and Chews sponsor for the event, providing on-course nutrition for participants competing in the numerous triathlon distances. Kerrville Tri, owned and produced by High Five Events, takes place on September 23rd & 24th in Kerrville, Texas.
"GU Energy Labs is elated to be back in Kerrville for the Kerrville Triathlon! Our Energy Chews and Gels on course are specifically formulated to empower you, to challenge yourself, and achieve your goals, while having the most fun possible!" said Caroline Cuter, GU event marketing specialist.
At bike and run aid stations along the course, GU will be there to power up participants. Participants will have the option to choose from Roctane Salted Lime Gel, Roctane Vanilla Orange Gel and Lemonade Chews. All participants will receive GU in their race goody bags.
Megan Frausto, partnership manager of High Five Events, said, "GU's focus on harnessing the optimal potential of athletes is ingrained in the nutritional science that forms the basis of their entire product line. Our partnership ensures participants have access to on course nutrition that empowers them to chase any goal they set."
Kerrville Tri will be celebrating its 12th anniversary this year. The most scenic triathlon in Texas offers distances for all levels of athletes from the Rookie and Sprint distances to the Quarter and Half distances. In addition, the event offers relays and aquabike, as well as Athena and Clydesdale divisions. The event will take place in the Texas Hill Country, in Kerrville, Texas on September 23rd & 24th, 2023. Kerrville Tri will also have its Health and Fitness Expo on September 22nd & 23rd at Inn of the Hills Conference Center. Participant registration can be found HERE. Exhibitor registration is still open for the expo and race day finish line festival.
About High Five Events: Beginning with the launch of a single triathlon in 2003, High Five Events has grown to become one of the largest privately owned event production companies in the United States. High Five Events is a community-centric company based in Austin, Texas. Their staff has more than 100 years of combined experience organizing large events across different venue types in a variety of locations. High Five Events has been on the Inc. 5000 List of Fastest Growing Companies for 2020 (ranked 1853) and 2019 (2163).
About GU Energy Labs: GU Energy Labs strives to help athletes to reach their highest potential with products that deliver the right nutrients, in the right amounts, at the right time. Developed in collaboration with Olympians and age groupers alike, the GU nutrition matrix of Hydration, Energy and Recovery products has helped countless athletes achieve their dreams since its inception in 1993. Headquartered in Berkeley, GU Energy Labs produces all of its Energy Gels onsite with just the right blend of heart and science. Recommit to becoming your best athletic self, learn more about GU products, and discover how nutrition planning can help you get there at www.guenergy.com.
# # #