Keegan Swenson finishes 7th in 2021 Marathon MTB World Championships
October 4, 2021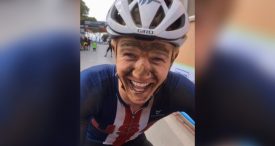 Swenson has top American performance at Marathon Mountain Bike Worlds in Italy.
ELBA ISLAND, Ita. – The 2021 Marathon Mountain Bike World Championships took on the island of Elba in Tuscany. Almost every part of this course is demanding single track with challenging climbs. The men raced 71 miles with 14,000 feet of climbing. The women raced 50 miles with over 10,000 feet of climbing. It was going to be a challenging day to say the least.
The race proved to be one of the hardest most have ever competed in. Fan favorites like Swiss rider Nino Shurter led the lead group for a while and eventually pulled out of the race for health issues. It was a struggle for most to even finish such an effort. Keegan Swenson (Park City Utah; Santa Cruz Bicycles) left it all out on the course today. He had a 91st call-up and made it into the lead group early into Lap 1 of 3. On Lap 2, he had a hole in his tire that he was able to fix on course. By the end of the day, he was able to finish seventh after one of the hardest days he's ever had on the bike.
Kyle Trudeau (Phoenix, Ariz.; Construction Zone Racing) and Kelly Catale (Pepperell, Mass.) were both able to manage a Top-40 in their respective races.
Men's Results
1 Andreas Seewald (GER)
2 Diego Alfonso Arias Cuervo (COL)
3 Jose Dias (POR)
7 Keegan Swenson(USA)
39 Kyle Trudeau(USA)
67 Jules Goguely(USA)
72 Will Foley(USA)
DNF. Alex Wild (USA)
Women's Results
1 Mona Mitterwallner (AUT)
2 .Maja Wloszczowska (POL)
3 Natalia Fischer Equsquiza (ESP)
35 Kelly Catale (USA)
Visit USACycling.org for more information on the athletes, events and membership programs, and follow @USACycling across all channels for the latest on Team USA.
For more information, contact Angelina Palermo at apalermo@usacycling.org.
ABOUT USA CYCLING (usacycling.org)
USA Cycling is the national governing body for the sport of cycling and oversees the disciplines of road, track, mountain bike, cyclocross, and BMX. USA Cycling's mission is to champion accessibility, participation, and excellence in the sport of cycling to make more Americans healthier, happier, and better on two wheels while achieving sustained international racing success. USA Cycling supports cyclists at all levels, from those just beginning in the sport and participating in fun rides to international caliber racers. The organization identifies, develops, and selects cyclists to represent the United States in international competition through the support of kids' and interscholastic programs, amateur bike racing and grassroots development programs, and the provision of critical infrastructure to run organized racing. USA Cycling has a membership of 100,000, annually sanctions over 2,500 events, and is a proud member of the Union Cycliste Internationale (UCI) and United States Olympic & Paralympic Committee (USOPC).