Juvenile Arthritis Awareness Month Inspires Cyclists Training for "Ride of a Lifetime"
July 20, 2022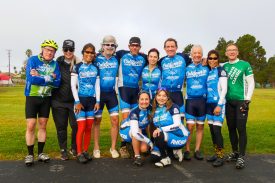 Team Amgen Sets Pace in Battle Against Nation's Number One Cause of Disability for 300,000 Children in the U.S.
LOS ANGELES – July 20, 2022/ENDURANCE SPORTSWIRE/ – July is Juvenile Arthritis Awareness Month, and it is stoking the fire of cyclists preparing to take on a 525-mile ride in September. Juvenile idiopathic arthritis and other pediatric rheumatic diseases affect nearly 300,000 kids and teens in the United States.
Many of the approximately 215 registered riders for the 2022 California Coast Classic Bicycle Tour + Arthritis Challenge Experience presented by Amgen, either have some form of arthritis or are riding for a loved one.
"The Arthritis Foundation's critical work has a positive impact on so many, but there's a special place in our hearts for the hundreds of thousands of kids who are living with arthritis on a daily basis," said Gunjan Thiagarajah, vice president of Amgen Inflammation. "We're proud to be a part of the California Coast Classic as it continues to be the Arthritis Foundation's leading annual fundraiser, and we're especially honored by the Team Amgen riders who train relentlessly and participate in this heroic ride each September."
Team Amgen has ramped up its training this month, riding two to four times a week in the Westlake, California, area. "We're cyclists, and we love the CCC. The roads, the views, the community. It doesn't get any better from a cyclist's perspective," said Erika Halseth, an Amgen employee who serves as team captain.
"Whenever we need extra training motivation – like when the heat hits in July – we just think about the people we're riding for – the one in four adults who have to deal with arthritis on a daily basis, and particularly the children who are affected by it. Now that it's Juvenile Arthritis Awareness Month, we definitely have more motivation to raise funds and train hard in honor of those kids."
Another team training hard this summer is Team Carter, which recently received the Arthritis Foundation's 2022 Outstanding Fundraising Achievement Award. This award, for volunteers who have shown exceptional commitment and creativity in fundraising and building arthritis awareness, was presented to captains Jerry Davis and Kyle Berg at the annual Pathways Conference in Kansas City, Missouri, last month. The team, which has been the top fundraising team the past seven years expects to top $1 million in its cumulative fundraising in 2022. The Team's formation was inspired by Davis's grandson, who was diagnosed with ankylosing spondylitis at age 3, after six months of unexplained pain.
The riders aren't the only ones stepping up for people like Carter. In addition to Amgen, several other companies are helping to raise funds and awareness for the Arthritis Foundation's mission of pursuing a cure for America's #1 cause of disability.
"It's inspiring to see riders and companies stepping up to support the 60 million Americans with arthritis" said Arthritis Foundation president and CEO Steven Taylor. "Their commitment has already helped raise more than $650,000 this year, and these funds allow us at the Arthritis Foundation to do the work that we passionately believe in – to increase the quality of life for the patients with arthritis, both adults and children, while ultimately fighting to find a cure."
Taylor plans to help kick off the 22nd annual California Coast Classic as he rides out of San Francisco on September 10 with the group of up to 250 cyclists. (The event caps rider registration at 250, and there are limited spots available for this year's ride.)
Amgen, one of the world's preeminent biotechnology companies, is the event's presenting sponsor again this year. Champion Partners include GO Sleeves, Horizon, Visit Cambria, Cycle Central Coast, DePuy Synthes, and Pfizer. Prestige Partners include the Safeway Foundation and Setpoint Medical.
The California Coast Classic is a an 8-day, 525-mile, in-person tour down the California Coast scheduled for September 10-17. The event is the Arthritis Foundation's top annual fundraiser and is expected to raise more than $1 million.
New for this year, supporters who cannot attend the in-person bike tour can register for the Arthritis Challenge Experience (ACE), which allows them to choose their own adventure while still connecting with the vibrant CCC community. While the in-person ride is expected to sell out at 250 participants, ACE provides expanded opportunities for riders who miss the cut on registration or who cannot travel to California.
Registration for the California Coast Classic Bicycle Tour + Arthritis Challenge Experience, along with more information about the tour, including its detailed itinerary, is available at the California Coast Classic website.
# # #
About the Arthritis Foundation
The Arthritis Foundation is fighting for all people who live with arthritis. As a Champion of Yes, the Arthritis Foundation's mission is to turn the obstacles arthritis causes into opportunities. The Arthritis Foundation champions life-changing solutions and medical advancements, and also provides ways for people to connect, break down barriers in health care and join the fight for a cure — uniting hearts, minds, and resources to change the future of arthritis. To join the fight to cure arthritis, visit arthritis.org.
About the California Coast Classic Bike Tour
The Arthritis Foundation's California Coast Classic Bicycle Tour Presented by Amgen, "The Ride of a Lifetime", is the winner of Gran Fondo Guide's Best Charity Bike Tour Award. It began in 2001 and is the flagship fundraising bike tour of the Arthritis Foundation, raising over $1 million dollars annually to support people who live with arthritis. Beginner and experienced cyclists are encouraged to join the 8-day, fully supported 525-mile journey down the coast of California from San Francisco to Los Angeles from September 10-17, 2022. Supporters who cannot come to the in-person tour are invited to join the Arthritis Challenge Experience, a choose-your-own adventure that connects participants to a the vibrant CCC community. For more information, visit arthritis.org/californiacoastclassic.
Media Contact:
Julie Kelly, SPEC PR, 760.672.2527 (cell), julie.kelly@specpr.com