Johnson Fitness & Wellness and Matrix Return as Los Angeles Marathon Partners
February 15, 2023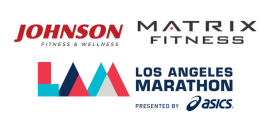 2023 Los Angeles Marathon presented by ASICS to welcome 20,000 runners on Sunday, March 19
LOS ANGELES, CA / Irvine, CA (February 15, 2023) /ENDURANCE SPORTSWIRE/ – The Los Angeles Marathon presented by ASICS today announced Johnson Fitness & Wellness and Matrix as official specialty fitness retail co-sponsors ahead of the 38th annual event on March 19, 2023.
"We are excited to have both Matrix and Johnson Fitness back again in 2023," said John Duke, Senior Director of Partnerships for the marathon. "Johnson makes the finest indoor training equipment in the world.  Their broad range of equipment covers the spectrum of all exercise types, whether it be running, cycling, rowing or home gyms. Whatever our athletes cross training needs are, Johnson has the solution."
Johnson Fitness & Wellness is THE home of fitness. With more than 100 stores in the US, we aim to empower our customers' fitness and well-being in everything we do. Each JFW retail location offers an extensive assortment of fitness products and brands, including our premiere equipment brand and Los Angeles Marathon co-sponsor, Matrix.
"Our customers often visit our retail stores as they begin their marathon training journeys," said Julia Haas, Sr. Director of Marketing for Johnson Fitness & Wellness. "Our experienced fitness consultants and wide selection of treadmill and cardio products allow us to find the right fit for their training needs and goals. The Los Angeles Marathon is a perfect opportunity to align our retail brand and support our store communities during a signature local event."
"We are thrilled to sponsor the Los Angeles Marathon for a second year in a row," said Jeff Moser, Sr. Director of Sales and Marketing for Matrix. "Our premium treadmill products are built specifically to support runners of all skill and training levels. Our marathon partnership supports our mission to provide an elevated workout for the home fitness enthusiast. We can't wait to connect with this year's runners."
On Sunday, March 19th the Los Angeles Marathon will welcome over 20,000 runners from around the world to experience the iconic 26.2-mile Stadium-to-the-Stars course. Johnson Fitness & Wellness and Matrix are will be activating at booth #111 throughout the pre-race Health & Fitness Expo on Friday, March 18th & Saturday, March 19th.
For more information, please visit www.lamarathon.com.
About Johnson Fitness & Wellness
Johnson Fitness & Wellness (JFW) is the retail division of Johnson Health Tech Retail, Inc. JFW is the world's largest specialty fitness retailer with more than 465 stores worldwide and counting. Each JFW retail showroom offers the strongest assortment of fitness products and brands, including Matrix, Vision, and Horizon. The stores are staffed by experienced fitness consultants who help customers find the perfect product to achieve their fitness goals. Customers have access to a wide assortment of personal fitness and wellness equipment, including treadmills, ellipticals, stationary bikes, home gyms and accessories. To learn more, visit johnsonfitness.com.
About Matrix
Matrix Fitness (matrixfitness.com), a Johnson Health Tech brand, is the world's premier equipment brand dedicated to serving fitness enthusiasts at home and in the club. Matrix redefines the exercise experience with equipment that offers dynamic performance, sleek design, smart technology, exclusive workout programs and durability that stands up to rigorous use by multiple users, day after day.
About the Los Angeles Marathon
The Los Angeles Marathon presented by ASICS is operated by The McCourt Foundation. Since 1992, The McCourt Foundation (TMF) has been an organization whose mission is to empower individuals and communities to build a healthier world and make a difference through the support of neurology research, hosting educational forums, and using its events as a platform to raise funds for charity partners. Further information about the 2023 Los Angeles Marathon presented by ASICS can be found online at LAMarathon.com and follow along on social media @LAMarathon.
# # #