Jan Van Berkel (CHE) claims victory on home-soil with a brilliant performance at this year's IRONMAN Switzerland Thun Triathlon
July 11, 2023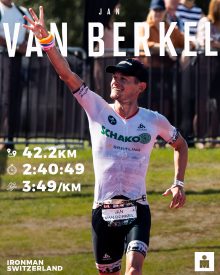 - It was a day to remember for Jan van Berkel (CHE) as he was crowned IRONMAN Switzerland Thun champion for the fourth time. A heroic achievement on his last IRONMAN event as a professional athlete. Beating Leonard Arnold (DEU) and Andrea Salvisberg (CHE), who finished second and third respectively.
THUN, Switzerland (July 11, 2023)/ENDURANCE SPORTSWIRE/ – Switzerland played host to the 5th edition of IRONMAN® Switzerland Thun this past Sunday. This race previously took place in Zurich for 23 years before moving to its new home in Thun. The day saw Switzerland's Jan van Berkel take the spotlight by taking the top podium spot by finishing in a time of 08:05:02 in his last professional IRONMAN event.
Jan van Berkel: "The win is important but for me, the beauty of the race was having everyone here who gave me a boost, a training plan, helped prepare my bike, closed my wetsuit, or prepared a meal for me. It was nice having everyone here today. The race was close and painful, but I don't really care how it went. The only thing that matters is that I had the finish line tape in my hand… Today is one of the days I will cherish for the rest of my life."
Leonard Arnold: "The race was so tough; the last few weeks have been mentally so stressful leading up to this. I crashed and destroyed my bike, but I managed to get a bike from my girlfriend. I wasn't sure how that was going to play out today but in the end it was incredible. The crowd out there was amazing, and I have no words to describe how good the run course was."
Andrea Salvisberg: "I am so happy; it was a great race. It was beautiful scenery on the bike, and it was amazing to have my brother out there on the course. It was a perfect race, but I need to train a bit harder for an IRONMAN because it is so much harder than the IRONMAN 70.3 events that I am used to [he laughs]. It is amazing to see what Jan [van Berkel] has achieved in the last couple of years. He is an amazing athlete and good luck to him on the next step of his career."

The day began with a one-loop 3.8 km swim at the newly renovated lido where athletes entered the pristine waters of Lake Thun in the heart of the Alps. Followed by a two-loop 180.2 km bike course taking athletes towards Spiez and into Gürbe valley. Lastly, a majestic three-loop 42.2 km run course awaited with the picturesque backdrop of the majestic Alps.
IRONMAN Switzerland Thun results:
Professional men
1. Jan van Berkel (CHE) – 08:05:53
2. Leonard Arnold (DEU) – 08:07:14
3. Andrea Salvisberg (CHE) – 08:10:25
4. Samuel Hurzeler (CHE) – 08:12:31
5. Jon Sæverås Breivold (NOR) – 08:13:43
Full swim-bike-run results for IRONMAN Switzerland Thun can be found on https://www.ironman.com/im-switzerland-results. Alternatively, download the IRONMAN Tracker App (available on both Android and iOS).
For more information about IRONMAN events, visit https://www.ironman.com/ and media related queries can be directed to emeapress@ironman.com.
[ENDS]
About The IRONMAN Group
The IRONMAN Group operates a global portfolio of events that includes the IRONMAN® Triathlon Series, the IRONMAN® 70.3® Triathlon Series, 5150™ Triathlon Series, the Rock 'n' Roll® Running Series, IRONKIDS®, World Triathlon Championship Series, premier running events including the Standard Chartered Singapore Marathon™ and City2Surf®, UTMB® World Series events including the Canyons Endurance Runs, Tarawera Ultra and Ultra-Trail Australia™, Epic Series™ mountain bike races including the Absa Cape Epic®, road cycling events including Haute Route®, and other multisport races. The IRONMAN Group is the largest operator of mass participation sports in the world and provides more than a million participants annually the benefits of endurance sports through the company's vast offerings. Catering to the full athlete experience, the company portfolio also includes FulGaz® virtual cycling, the most realistic indoor riding experience connected fitness application aimed at preparing athletes for real-world events. Since the inception of the iconic IRONMAN® brand and its first event in 1978, athletes have proven that ANYTHING IS POSSIBLE® by crossing finish lines around the world. Beginning as a single race, The IRONMAN Group has grown to become a global sensation with hundreds of events across 55+ countries. The IRONMAN Group is owned by Advance, a private, family-owned business. For more information, visit www.ironman.com/about-ironman-group.
About Advance
Advance is a private, family-held business that owns and invests in companies across media, entertainment, technology, communications, education and other promising growth sectors. Our mission is to build the value of our companies over the long-term by fostering growth and innovation. Advance's portfolio includes Condé Nast, Advance Local, Stage Entertainment, The IRONMAN Group, American City Business Journals, Leaders Group, Turnitin, 1010data and Pop. Together these operating companies employ more than 17,000 people in 29 countries. Advance is also among the largest shareholders in Charter Communications, Warner Bros. Discovery and Reddit. For more information visit www.advance.com.