Jan Frodeno joins Australian micronutrition start up
April 11, 2022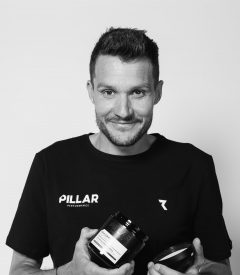 3 x IRONMAN World Champion joins PILLAR Performance.
/ENDURANCE SPORTSWIRE/ – Australian sports micronutrition brand, PILLAR Performance has landed one of endurance sports biggest names, with Jan Frodeno signing on as the brand's Global Ambassador.
Widely considered the greatest triathlete of all time, Frodeno has an unrivalled resume over Olympic, 70.3 and full IRONMAN© distance in a career that has spanned almost 20 years.
The Sydney-based start-up – still in its first year of operation – has primarily operated locally and has now been selected by Frodeno to join his team as a performance partner.
Whilst PILLAR has quickly built an affinity with triathlon – with an impressive roster of Australian athletes including Sam Appleton and Ellie Salthouse, as well as being the Official Micronutrition Partner of IRONMAN© Oceania – it is still very much in its infancy as a brand.
It's another bold move from the Long-Distance World Record holder, who is renowned for being highly discreet about his training regime, but known to be at the forefront of new trends and technologies in performance.
Founded by former professional rugby player, Damien Fitzpatrick, PILLAR is built on the philosophy of providing an athletic advantage through micronutrition. Their opening range, formulated with one of Australia's leading Sports Dietitians, Pip Taylor is typified by its high-potency formulations, ingredient selection and batch-testing program.
Founder of PILLAR and former NSW Waratah, Damien Fitzpatrick said it was an exciting moment for the brand.
"We're really excited to welcome Jan to PILLAR, he's an icon of triathlon and endurance sport more broadly – to have his endorsement and belief in what we're building here is really promising," Fitzpatrick said.
"We started this brand with a vision to hero micronutrition for performance, feeling it had been ignored for far too long. I was an avid user of micros – particularly omega-3 – during my playing career with great effect, but quickly realised there were no products out there specifically formulated to support the performance of athletes.
"Jan took notice of what we were doing [in micronutrition] and was interested to learn more, we were able to connect and outline our vision for PILLAR and how that intrinsically aligns with endurance sport."
Frodeno – currently preparing for the 2022 season having its final at the legendary Ironman World Championships Kona – was happy to finally make his partnership with PILLAR official.
"I've been using PILLAR since August last year after connecting with Damien and his team and felt the benefits immediately," Frodeno said.
"PILLAR is quite different to anything I've come across, with their focus on selecting ingredients with only the highest bioavailability for best results, with formulas that are of the strongest potency – the innovation they're looking to bring into this space is exciting to be a part of.
"First and foremost, the biggest thing for me was that Damien is a former professional and understands the unique micronutrient requirements of athletes, as well as the high levels of contamination in supplements all over the world – addressing this through ongoing batch testing, which is very rare to find in these products."
Fitzpatrick's vision involves an exciting pipeline of new product development, with Frodeno playing a key role in the growth of PILLAR's existing range.
"Jan has been extremely engaged from the outset, interested in how we're building out the range and singling out products he feels would benefit his performance," Fitzpatrick said.
"There are some exciting projects in the works from both a formulation and delivery system perspective and we're looking forward to bringing that to not just Australia, but European markets.
"Micronutrition has been left largely unaddressed as a high-performance tool, we're focused on bringing new technology into this space along with innovative thinking around its application for endurance."
The 2008 Olympic Gold Medallist said he was excited by the direction of the PILLAR brand and was looking forward to seeing the start-up expand its operations globally.
"The availability of high-quality micronutrition with all the features PILLAR offers is lacking around the world. I'm really happy to have them on board ahead of a big year," Frodeno added.
"Working with PILLAR is about leaving no stone unturned from a performance point of view. I've been around the block a few times, which means I've put a lot of stress on my body over a long period.
"Since I've started using PILLAR I've noticed improvements in the quality of my overall health, muscle recovery, immune strength and I have to say most days now, I'm pain free which is a big win as a professional athlete."
For more information on PILLAR Performance and it's range of purposefully formulated micronutrition visit pillarperformance.shop
###
For a selection of hi-res images of Jan Frodeno and Damien Fitzptrick click here.
For further information on this partnership or for any media enquiries, please contact Matt Townsend at matt@pillarperformance.com.au or +61 401 380 832.