Jack Moody, Maeve Kennedy rally to win XTERRA Rotorua
March 14, 2023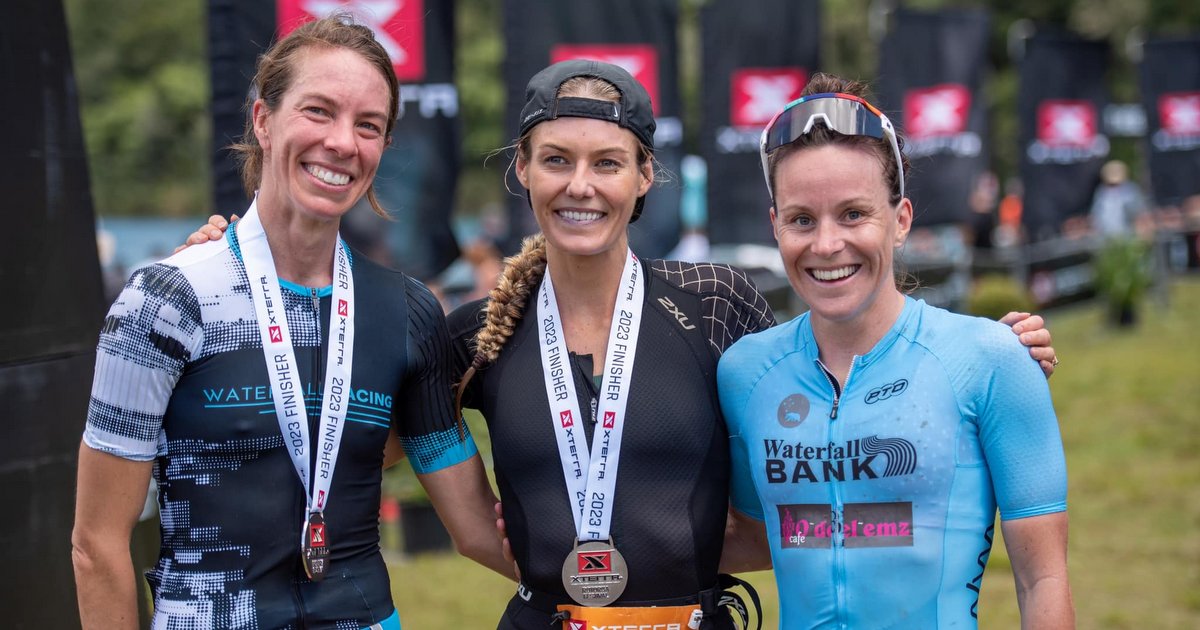 Jack Moody and Maeve Kennedy captured the 19th annual XTERRA Rotorua Festival off-road triathlon elite titles with winning times of 2:06:16 and 2:26:35, respectively, on a beautiful blue sky day at Lake Tikitapu in the Bay of Plenty region of New Zealand's North Island on March 11, 2023.
/ENDURANCE SPORTSWIRE/ – Jack Moody and Maeve Kennedy captured the 19th annual XTERRA Rotorua Festival off-road triathlon elite titles with winning times of 2:06:16 and 2:26:35, respectively, on a beautiful blue sky day at Lake Tikitapu in the Bay of Plenty region of New Zealand's North Island on March 11, 2023.
It's the first big XTERRA win for Moody and the third for Kennedy, who also won at XTERRA Wellington two weeks ago.
In the men's elite race, Sam Osborne – who won the previous four editions of this race – was first out of the water alongside David Martin and those two set the pace on the bike.
"David and I got out of Blue Lake and I went all chips in, because I know how fast Jack can run," said Osborne. "Maybe I went too hard on the bike, because I got a split that I was more than one-minute up at one stage but was surprised to see it was only 35-seconds coming into T2. At the start of the run, I thought I was in a bit of trouble because Jack is one of the fastest runners in the sport, and I think he showed a masterclass on the run today."
Moody came out of the water more than one-minute behind Osborne and Martin, but was confident in his abilities to come back having posted wins at Challenge Wānaka and Ironman 70.3 Taupo recently.
"I got myself into a bit of trouble at the first buoy, just got caught up in it and took in a lot of water and kind of freaked myself out a little bit. It's the first time it's happened and a gap formed and it was a pretty lonely swim there," said Moody.
"But I know how fit I am on the bike and running at the moment, and know it's a long enough day out there and things can happen so I was pleasantly surprised when I caught David on the bike and just pushed on from there."
Osborne took the lead into the run, but Moody was quick to catch and pass him.
"I got the fright of my life as I came into T2 because I thought Sam had ridden way ahead of me so when I saw it was just 30 seconds I got after it real hard," said Moody, who posted the fastest run of the day by nearly three minutes. "I don't think I've ever felt that good on the run here before. I know the Blue Lake well, so to just really get after it today was awesome."
Perhaps even more impressive than posting the fastest run was that Moody also had the fastest bike split of the day, and to out-tick Osborne on his home course (even if only by 45-seconds) says a lot.
"Absolutely over the moon with the win, especially with all the legends of the sport that have won it in the past, it's a really special feeling, and what an awesome event. I always love the XTERRA family and vibe," said Moody. "I love mountain biking, it's where I started, but it's really hard for me to squeeze it in with the season of 70.3 and Ironman racing, but if I can get more of it into the calendar then XTERRA World Champs could be a goal this year."
Osborne did all he could on the run to finish in second place, while Kieran McPherson finished two minutes back in third place.
"These guys ahead of me are world class athletes," said McPherson. "This is Sam's race so anyone that can get close to him at this venue is doing bloody well. Jack is the future of endurance sport racing in the country so to get behind these guys is not too bad a day."
On the women's side, Kennedy (AUS) survived another tight race against XTERRA Asia-Pacific standouts Samantha Kingsford and Lizzie Orchard from New Zealand.
"It was tough, Samantha definitely gave me a run for my money," said Kennedy. "We played it together on the bike for a while until Samantha pulled away from me a little bit. I just had her in sight and hoped I could hold onto her until the run to hunt her down."
And for the second time in two weeks, Kennedy did just that.
"As I was going into T2, Samantha was heading out onto the run. I believe it was a 30-second lead, but I gave it my all and started hunting. I could see her ahead as we ran around the beautiful Blue Lake, and by the 2km mark we were together and I worked on trying to extend a lead. I am absolutely stoked, it was an incredible race."
Kingsford held on for second, and after the race, said; "Hats off to Maeve, she's running really well at the moment. I was really happy with my swim, both Maeve and I managed to hang onto Hannah Howell, which was good. I knew I had to put the hammer down on the bike but Maeve was always hot on my heels and then coming into transition to go onto the run I saw her and thought "ah no, here we go."
Lizzie Orchard rounded out the top three.
"It was fun out there, but on trails like this you can't really see too far ahead of you so you just have to keep fighting and see what happens as you roll into T2," said Orchard. "As that happened, I found out it was four-minutes to the front! Still, hopefully a bit of improvement over the year and the main goal is XTERRA World Champs in Molveno so there's quite a way to go until then. Next up for me is the XTERRA Asia-Pacific Championship in Taiwan next month, so I will build for that one."
XTERRA Rotorua was the second of six stops on the 2023 XTERRA Asia-Pacific Tour. For elites, there are five prize paying races in the region, highlighted by the $25,000USD on offer at the XTERRA Asia-Pacific Championship in Taiwan, which will host the first of seven stops on the all-new XTERRA World Cup where elites will go head to head for their share of $340,000 in prize money.
Up Next: XTERRA Australia, April 1 in Dunsborough, WA
XTERRA ROTORUA ALL-TIME ELITE WINNERS
Year – Men/Women
2003 – Sam Mallard/Evelyn Willamson
2004 – Hamish Carter/Sonia Foote
2005 – Hamish Carter/Sonia Foote
2006 – Hamish Carter/Gina Ferguson
2007 – Tim Wilding/Gina Ferguson
2008 – Terenzo Bozzone/Sonia Foote
2009 – Richard Ussher/Nicola Leary
2010 – Scott Thorne/Nicola Leary
2011 – Richard Ussher/Karen Hanlen
2012 – Ben Allen/Jacqui Slack
2013 – Ben Allen/Renata Bucher
2014 – Conrad Stoltz/Barbara Riveros
2015 – Braden Currie/Suzie Snyder
2016 – Braden Currie/Lizzie Orchard
2017 – Sam Osborne/Jacqui Allen
2018 – Sam Osborne/Jacqui Allen
2019 – Sam Osborne/Jacqui Allen
2021 – Sam Osborne/Samantha Kingsford
2022 – Jack Moody/Maeve Kennedy
About XTERRA
X marks the unknown. TERRA is earth. United, we are XTERRA – a brand born to discover unknown territory. Since our inception in 1996, XTERRA has been inspiring off-road adventure by connecting people with nature through events with a fun, family vibe. We offer 13 off-road race options, from triathlon-to-trail running, for participants of all ages and skill levels in 47 countries worldwide. We have a global perspective, we aspire to protect where we play, and live the XTERRA lifestyle everyday, everywhere we roam. Join us off-road at xterraplanet.com.