IRONMAN Announces Toyohashi and Atsumi Peninsula in Japan as New Host of IRONMAN 70.3 Triathlon
February 14, 2023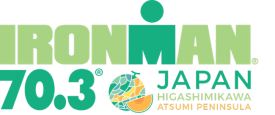 - Inaugural IRONMAN 70.3 Japan – Higashimikawa triathlon scheduled to take place June 10, 2023; General registration to open Feb. 15, 2023, and can be accessed by visiting, www.ironman.com/im703-japan - IRONMAN 70.3 Japan – Higashimikawa first IRONMAN branded event to return to Japan since 2020, only a 90-minute train ride from Tokyo Station to Toyohashi Station
TOYOHASHI, JAPAN / TAMPA, Fla. /ENDURANCE SPORTSWIRE/ – The IRONMAN Group announced today that Toyohashi and the Atsumi Peninsula will play host to the newest IRONMAN® 70.3® triathlon. The inaugural IRONMAN 70.3 Japan – Higashimikawa triathlon is scheduled to make its debut on Saturday, June 10, 2023. Athletes will take on a journey as they will embark past some of the Atsumi Peninsula's most beautiful coastline and agricultural landscapes. General registration for the IRONMAN 70.3 Japan – Higashimikawa triathlon will open on Feb. 15, 2023, by visiting, www.ironman.com/im703-japan.
"We could not be more excited to return to Japan for an IRONMAN 70.3 triathlon," said Jeff Edwards, Managing Director of Asia for The IRONMAN Group. "The Atsumi Peninsula provides a fascinating backdrop of shoreline vistas and agricultural villages. The 90 km single-loop bike course is certain to please all athletes. Toyohashi station is a quick high-speed train ride from Tokyo. We look forward to offering a new IRONMAN 70.3 race opportunity in Japan."
IRONMAN 70.3 Japan – Higashimikawa will treat athletes to a 1.9 km swim in Atsumi Bay at Shiroya Beach Park, a scenic one-loop 90 km bike ride around the Atsumi Peninsula, culminating with a fast point-to-point 21.1 km run from Shiroya Beach Park to a unique finish at Toyohashi Sports Park.
"It is our great honor and pleasure to bring back a Japan IRONMAN race to the Higashi Mikawa region after an absence of three years," said Hiroshi Otsuka, director of the East Mikawa Community Sports Development Foundation, "We intend to show visitors our great Higashi Mikawa landscapes and hospitality. Our community is looking forward to hosting an international IRONMAN 70.3 event."
Taro Shirato, chairman of Athlonia Triathlon, further highlighted the return of IRONMAN racing to Japan, "We are tremendously excited to move IRONMAN 70.3 to the Atsumi Peninsula with courses that showcase the fantastic terrain and culture of the region."
Located on the southeast aspect of Honshu Island, the Atsumi Peninsula of Aichi Prefecture is a national treasure just 300 km from Tokyo. It is a region with great environmental and economic diversity. Spectacular stone and sand beaches ring calm bays as well as rugged shorelines that feature some of Japan's best surfing. The productive agricultural zones benefit from a temperate climate with world-renowned muskmelons and flowers such as hydrangeas and chrysanthemums featured. With access to three international airports and an extensive train system, Athletes who come by plane, train, or automobile will have plenty of offerings to enjoy and support their experience on the Atsumi Peninsula at IRONMAN 70.3 Japan Higashimikawa.
General registration for the 2023 IRONMAN 70.3 Japan – Higashimikawa triathlon will open Feb. 15, 2023. The 2023 IRONMAN 70.3 Japan – Higashimikawa triathlon will offer qualifying slots to the 2023 VinFast IRONMAN 70.3 World Championship taking place in Lahti, Finland.
For more information about the 2023 IRONMAN 70.3 Japan – Higashimikawa triathlon www.ironman.com/im703-japan. For more information on the IRONMAN brand and global event series, please visit www.ironman.com. Media inquiries may be directed to press@ironman.com.
###
About The IRONMAN Group
The IRONMAN Group operates a global portfolio of events that includes the IRONMAN® Triathlon Series, the IRONMAN® 70.3® Triathlon Series, 5150™ Triathlon Series, the Rock 'n' Roll® Running Series, IRONKIDS®, World Triathlon Championship Series, premier running events including the Standard Chartered Singapore Marathon™ and City2Surf®, UTMB® World Series events including the Canyons Endurance Runs™, Tarawera Ultra and Ultra-Trail Australia™, Epic Series™ mountain bike races including the Absa Cape Epic®, road cycling events including Haute Route®, and other multisport races. The IRONMAN Group is the largest operator of mass participation sports in the world and provides more than a million participants annually the benefits of endurance sports through the company's vast offerings. Catering to the full athlete experience, the company portfolio also includes FulGaz® virtual cycling, the most realistic indoor riding experience connected fitness application aimed at preparing athletes for real-world events. Since the inception of the iconic IRONMAN® brand and its first event in 1978, athletes have proven that ANYTHING IS POSSIBLE® by crossing finish lines around the world. Beginning as a single race, The IRONMAN Group has grown to become a global sensation with hundreds of events across 55+ countries. The IRONMAN Group is owned by Advance, a private, family-owned business. For more information, visit www.ironman.com/about-ironman-group.
About Advance
Advance is a private, family-held business that owns and invests in companies across media, entertainment, technology, communications, education and other promising growth sectors. Our mission is to build the value of our companies over the long-term by fostering growth and innovation. Advance's portfolio includes Condé Nast, Advance Local, Stage Entertainment, The IRONMAN Group, American City Business Journals, Leaders Group, Turnitin, 1010data and Pop. Together these operating companies employ more than 17,000 people in 29 countries. Advance is also among the largest shareholders in Charter Communications, Warner Bros. Discovery and Reddit. For more information visit www.advance.com.