IRONMAN and North Idaho Sports Commission Agree to Host the IRONMAN 70.3 Coeur d'Alene Triathlon for Additional Three Years
June 23, 2023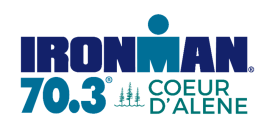 General registration to open on July 12, 2023, by visiting www.ironman.com/im-coeur-dalene
COEUR D'ALENE, Idaho / TAMPA, Fla. (June 23, 2023)/ENDURANCE SPORTSWIRE/ – Following a vote at Tuesday's City of Coeur d'Alene council meeting, a new three-year host venue agreement was agreed upon between IRONMAN and the North Idaho Sports Commission to host an IRONMAN® 70.3® triathlon in the City of Coeur d'Alene, Idaho.
"We are thrilled to continue our partnership with the North Idaho Sports Commission and the City of Coeur d'Alene," said Tim Brosious, Northwest Regional Director for The IRONMAN Group. "After twenty years of racing in this beautiful Northern Idaho community, Coeur d'Alene continues to be one of the most exciting destinations and sought after race experiences in our North American race series. We are proud to continue to offer an IRONMAN 70.3 triathlon in this unique and beautiful Northwest community."
The IRONMAN 70.3 Coeur d'Alene triathlon will consist of a 1.2-mile single-loop swim in the pristine waters of Lake Coeur d'Alene. Athletes will then embark on a 56-mile single-loop bike ride that will take them on a challenging yet scenic ride through the Northern Idaho terrain with sweeping mountain views before a transition at City Park. Athletes will cap off their race with a 13.1-run course through spectator lined streets, energetic neighborhoods, amazing views of Lake Coeur d'Alene, with vibrant finish line experience in downtown Coeur d'Alene on Sherman Ave.
Coeur d'Alene and its neighboring areas are surrounded by dozens of lakes left behind by the glaciers from the ice age. There are more than 55 lakes within easy driving distance of Coeur d'Alene, but none more scenic and full of activities than Lake Coeur d'Alene itself. The perfect place to go on vacation and experience numerous outdoor activities, the area will continue to offer both participants and their families an amazing scenic race destination. With the spectacular North Idaho sunsets and moonrises, the plunge of an osprey after a fish, and the glowing lights of downtown Coeur d'Alene reflecting across Lake Coeur d'Alene waters at night, it is a magical location that will surely please.
General registration will open on July 12, 2023, by visiting www.ironman.com/im703-coeur-dalene. The 2024 IRONMAN 70.3 Coeur d'Alene will offer qualifying slots to the 2024 VinFast IRONMAN 70.3 World Championship in Taupō, New Zealand.
For more information on the 2024 IRONMAN 70.3 Coeur d'Alene triathlon visit www.ironman.com/im703-coeur-dalene. For more information about this weekend's 2023 IRONMAN Coeur d'Alene triathlon, part of the VinFast IRONMAN North America Series visit www.ironman.com/im-coeur-dalene. For more information on the IRONMAN brand and global event series, please visit www.ironman.com. Media inquiries may be directed to press@ironman.com.
###
The North Idaho Sports Commission, a 501(c)(3), has been instrumental in bringing sporting events such as IRONKIDS, IRONMAN 70.3, and IRONMAN races to Coeur d'Alene with the collaboration and support of community partners. Through The IRONMAN Group's IRONKIDS race series, NISC seeks to build positive experiences and self-esteem in children and youth through the power of sport. These events show, through the power of participation, helpful ways to reduce stress and improve physical and mental well-being in addition to fostering inclusiveness, empathy, and problem solving.
NISC is committed to organizing, supporting, and promoting a variety of outdoor sporting events in which the whole community can participate, no matter a person's age.
For more information on the North Idaho Sports Commission find us at www.nisportscommission.org and on Facebook at www.facebook.com/NorthIdahoSports/ and www.facebook.com/friendsofironmancda/
About The IRONMAN Group
The IRONMAN Group operates a global portfolio of events that includes the IRONMAN® Triathlon Series, the IRONMAN® 70.3® Triathlon Series, 5150™ Triathlon Series, the Rock 'n' Roll® Running Series, IRONKIDS® Series, World Triathlon Championship Series, premier running events including the Standard Chartered Singapore Marathon™ and City2Surf®, UTMB® World Series trail-running events including the Canyons Endurance Runs™ by UTMB®, Tarawera Ultra by UTMB® and Ultra-Trail Australia™ by UTMB®, Epic Series™ mountain bike races including the Absa Cape Epic®, road cycling events including Haute Route®, and other multisport races. The IRONMAN Group is the largest operator of mass participation sports in the world and provides more than a million participants annually the benefits of endurance sports through the company's vast offerings. Catering to the full athlete experience, the company portfolio also includes FulGaz® virtual cycling, the most realistic indoor riding experience connected fitness application aimed at preparing athletes for real-world events. Since the inception of the iconic IRONMAN® brand and its first event in 1978, athletes have proven that ANYTHING IS POSSIBLE® by crossing finish lines around the world. Beginning as a single race, The IRONMAN Group has grown to become a global sensation with hundreds of events across 55+ countries. The IRONMAN Group is owned by Advance, a private, family-owned business. For more information, visit www.ironman.com/about-ironman-group.
About Advance 
Advance is a private, family-held business that owns and invests in companies across media, entertainment, technology, communications, education and other promising growth sectors. Our mission is to build the value of our companies over the long-term by fostering growth and innovation. Advance's portfolio includes Condé Nast, Advance Local, Stage Entertainment, The IRONMAN Group, American City Business Journals, Leaders Group, Turnitin, 1010data and Pop. Together these operating companies employ more than 17,000 people in 29 countries. Advance is also among the largest shareholders in Charter Communications, Warner Bros. Discovery and Reddit. For more information visit www.advance.com.