Intelligentsia Collaborates with Echelon Racing League to offer a *live* virtual race, this Sunday, January 16
January 14, 2022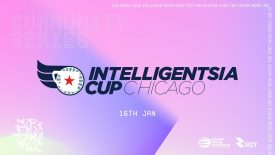 Riders may register for free, winner will be invited to join the pro race series, January 23
Chicago, IL /ENDURANCE SPORTSWIRE/ – The Intelligentsia Cup is thrilled to announce two virtual racing events , in partnership with the Echelon Racing League. The Echelon Racing League has collaborated with the Intelligentsia Cup to create a virtual race that emulates the Tour of Lake Ellyn, in Glen Ellyn, IL – that will be the second stage of the 2022 Intelligentsia Cup series (July 22-31, 2022).
"It's January, which means most places in the country are covered in snow and it's miserable to ride, impossible to race. This gives riders from all over the country an opportunity to experience the thrill of a race from the comfort of their own home."  – Marco Colbert, Race Director, Intelligentsia Cup
The community race is scheduled for January 16, 2022, and is open to all cyclists. The pro event will be held the following weekend, January 23, 2022. Top cyclists from each category will be invited to race in the pros race.
The Intelligentsia Cup is a 10-day road series in and around Chicagoland. This exciting series attracts elite and amateur cyclists from all over America and around the world, and is the largest road series in the country.
###