Intelligentsia Coffee Returns as Title Sponsor for the Intelligentsia Cup
May 22, 2023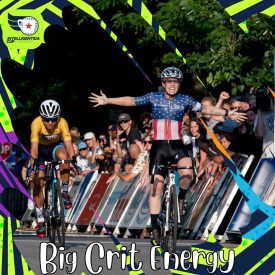 2023 series marks 11 years of racing in and around Chicagoland
May 22, 2023 Chicago, IL /ENDURANCE SPORTSWIRE/ – The Intelligentsia Cup is pleased to announce Intelligentsia Coffee is returning as the Title Sponsor for the 2023 race series.
"Nothing goes together quite like coffee and cycling and we are so grateful for the partnership and support we have received from Intelligentsia Coffee over the years. – Marco Colbert, Intelligentsia Cup Race Director
This is Intelligentsia Coffee's tenth year as a Title Sponsor of the Intelligentsia Cup. In 2013, co-founder of Intelligentsia Coffee (and avid cyclist), Doug Zell engaged with Marco Colbert (Race Director) and Tom Schuler (Partner) to create a series with the goal of showing riders how wonderful it is to live and ride in the beautiful communities that make up Chicagoland.
"We are honored to be associated with a cycling organization that shares our love for the community of Chicago and promotes an exciting atmosphere for professional and amateur cyclists as well as the local fans. Intelligentsia Cup has become a legendary race over the years and contributed to growth of the sport in our communities." – Jonathan Gogel, Director of Brand Marketing, Intelligentsia Coffee
In 2012, the series started as a single race held in St. Charles. It has now become a 10-day series and is the largest road racing series in the country.
"Last year we had over 5,400 entries and thousands of spectators every day." – Marco Colbert
About Intelligentsia Cup: The Intelligentsia Cup is a 10-day road series in and around Chicagoland. The venues in 2023 are: West Dundee, Glen Ellyn, Winfield, Mundelein, Lombard, Brookfield (new in '23), Northbrook, Elgin, Lake Bluff, and West Fulton Market in Chicago. This exciting series attracts elite and amateur cyclists from all over America and around the world, and is the largest road series in the country. Intelligentsia Cup is part of the American Criterium Cup, a series of criteriums that share a vision to invigorate American criterium racing and create engaging events that are spectator-friendly, and great for the communities in which races are staged.
About Intelligentsia Coffee: Intelligentsia Coffee has been tirelessly pursuing extraordinary coffee for the past 25 years. Regarded as one of the coffee industry's most influential companies, Intelligentsia discovers and fosters the best coffees by collaborating directly with farmers, sharing knowledge and creating enduring partnerships. Intelligentsia Coffee elevates a daily ritual into a culinary experience.
Links:
Intelligentsia Coffee Instagram
Intelligentsia Coffee Facebook
Press Contact:
Bekah Collins
520-481-1184
bekah@goodnewscommunications.com
###