InsideTracker Presents Shalane Flanagan, Emily Abbate in Live-Streamed Hurdle Podcast Event
November 4, 2021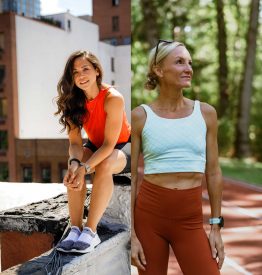 CAMBRIDGE, Mass.— Nov. 4, 2021— InsideTracker, the leading truly personalized performance and nutrition system, presents a live, virtual event featuring endurance legend Shalane Flanagan in conversation with acclaimed journalist Emily Abbate on the eve of the 2021 New York City Marathon, a race Flanagan won in 2017.
The interview will be recorded live for a future Hurdle podcast episode. During the recording, Abbate will dive deep into Flanagan's remarkable life and career, how she navigates the ups and downs as an athlete, coach and new mom, and the vital role mental and physical wellbeing plays in her success. She'll also talk about Project Eclipse, a personal challenge to run the six World Marathon Major races in just seven weeks— a journey she intends to complete on Sunday when crossing the finish line in Central Park.
This invitation-only event will be streamed live from the Rooftop Legends space of the New Design High School at 1 p.m. EST. To register, visit http://insidetracker.com/ShalaneHurdle
The limited on-site audience will include coaches, volunteers and staff from Girls on the Run NYC, an organization both Flanagan and Abbate admire and support. InsideTracker will also donate 26.2 percent of net sales from the Shalane Flanagan Limited Edition custom panel generated from the podcast to Girls on the Run NYC in the hopes of furthering Girls on the Run's mission of inspiring girls to be joyful, healthy and confident using a fun, experience-based curriculum that creatively integrates running.
About InsideTracker
Founded in 2009 by top scientists from acclaimed universities in the fields of aging, genetics and biology, InsideTracker is a truly personalized nutrition and performance system. InsideTracker's mission is to help people add years to their lives and life to their years by optimizing their bodies from the inside out. By analyzing the body's data from blood, DNA and fitness trackers, InsideTracker gives a crystal clear picture of what's going on inside, along with a science-backed action plan for improving your health and becoming your best self. Read our peer-reviewed papers in Scientific Reports and Current Developments in Nutrition.
Follow InsideTracker on Instagram, Twitter and Facebook.
###