Innovators join forces for UltraSwim 33.3
May 2, 2023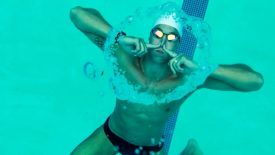 THEMAGIC5, the most comfortable swimming goggle, has joined the UltraSwim 33.3 family as its first Official Partner.
/ENDURANCE SPORTSWIRE/ – THEMAGIC5, the most comfortable swimming goggle, has joined the UltraSwim 33.3 family as its first Official Partner.
In addition to supporting participants at this new category of open water swim event, THEMAGIC5 Co-founder Niklas Hedegaard, retired professional short course pool breaststroke specialist, will also compete in UltraSwim 33.3 #2Montenegro this September.  This will be his first big open water event and of course he will be swimming front crawl not breaststroke!
"I have never done a long, multi-day, open water swim like this. So getting used to swimming in choppy water, and feeling comfortable over longer stretches without rest is definitely on my mind"
Read the full interview with Niklas below.
At UltraSwim 33.3 we aim to innovate and disrupt in the open water swimming world – so who better to join us as our first Official Partner than THEMAGIC5 – the most comfortable swimming goggles we've ever used. The goggle is the one item that you strap to your head every time you swim, and one of critical importance during long endurance swims. THEMAGIC5 – the final 5% really makes a difference – uses a super smart algorithm to convert a personal face scan in to a super goggle experience. This perfect fit means you don't need the same tension on the strap as conventional goggles, which in turn reduces or eliminates the headaches or discomfort around the eyes that come during long endurance swims. The multi-face lens also provides excellent open water all round vision above and below the water.
"The essence of THEMAGIC5 is to create a better swimming experience, free from distractions"
Find out more about the most comfortable swim goggles from THEMAGIC5
20% DISCOUNT FOR 33.3'ers!
We couldn't recommend these goggles more, and in partnership with THEMAGIC5 we can offer you a valuable 20% discount – order your personalised goggles here!
FIND OUT MORE ABOUT ULTRASWIM 33.3
Full interview with Niklas
You were a professional swimmer until you were 28 years old, was there a particular highlight of that career?
The highlights were many, and so were the defeats. I think though that it was my teammates that I remember most vividly from my career. It sounds so cliché, but it really is about the people isn't it? I am still very close with the friends I made on my swim team. We had a really strong group of swimmers. It was a challenge just to get on the relays for some of the big meets.
And what was the most difficult moment?
I can think of two. Missing out on the cut for World Short Course Championship in 2012, and never getting to swim a final at European Short Course Championship. Competitive pool swimming is a game of 1/100 of a second, and I know that there are countless of stories just like mine, but that doesn't make the feeling any better. Spending hours, weeks and years in the pool towards some goal, and then to see it pass in front of you, wondering what you could have done to change the outcome. The silver lining is that it has made me much more focused on the personal victories when I talk to athletes, at all levels, than the big shiny trophies that are given to the winner.
What inspired you to create THEMAGIC5?
I think that swimming is often overlooked when it comes to innovative new technologies. When I tell non-swimmers what it is that we do, they often respond with "oh, so you make these goggles mostly for competitive swimmers?". The truth is that there are so many swimmers in the world, about 10% of the population is swimming for fitness purpose. The company started as a frustration with our own goggles, but quickly we found out that so many people out there have issues with finding the right pair for them. The essence of THEMAGIC5 is to create a better swimming experience, free from distractions. That is something swimmers at all levels can benefit from.
Can you tell us where this company name came from?
We didn't want a name that was too closely associated with swimming or with water. We knew from the onset that our technology could be used to make other products. THEMAGIC5 refers to big difference that something rather small can make, such as a droplet of water in the goggles. We know that it is the small things, the 5%, that make the world of difference. A good or bad swimming experience, winning or losing. Take for example our swimming goggles, they look pretty much like another pair of swimming goggles, we haven't completely changed what a goggle is. Rather, we take the gasket and the nose piece, and adjust that to each persons unique facial shape, and that creates the difference that counts. That's where the magic comes in.
In your pro-swimming days, what was the longest swim you ever did non-stop, and presumably it was in the pool?
I remember doing 10km workouts almost every Sunday for about a year. The single longest workout I did was a pyramid, 100 + 200 + 300… 1000 + 1000 + 900 + 800… + 100. Add 2000 warm up to that I think the workout was 13km in total. The longest single swim I have completed is probably a 2km swim in a triathlon once.
You're entered in UltraSwim 33.3, with THEMAGIC5 being an official partner of the event – how are you planning to train for this multi-day challenge?
Just yesterday, I had my first real swim to train for the event. I did 3600m and it felt great. I plan on doing 1-3 sessions a week for the next couple of months. Since I stopped swimming competitively I have done tons of other types of workouts – with strength training, cross-fit and cycling being the main ones. I will slowly build some swimming into that schedule until the open water is a little warmer in Denmark (it's just 6C at the moment), and then I see myself having 2 pool swims and 1 open water swim per week over the summer. In the final two months days I plan to do some longer swim sessions as well to get my shoulders conditioned for the event. Most of my swims will probably be with local swim teams, but for sessions that I have to do on my own, I will use THEMAGIC5 training cards as inspiration.
What if anything is making you nervous about the event now it's 150 days away?
I have never done a long open water swim like this. So getting used to swimming in choppy water, and feeling comfortable over longer stretches without rest is definitely on my mind. I was never great at long course swimming, compared to short course, and open water is the ultimate long course pool. But in the end, preparation is all that matters to silence the anxiety and nervous feeling. I love this quote from Seneca, which says: "The body should be treated more rigorously, so that it may not be disobedient to the mind". Getting back to swimming regularly is really all it takes – I hope. If I can get to the pool the amount of times I plan to do, I am sure that the nervous feeling will disappear over time. Isn't that what preparation is all about?
Why do you think your goggles are best suited for open water swimming?
First, and most obviously, I know that I will be wearing them for long time. Having a pair of goggles that fit really well, is going to mean that I have less to worry about when it's time to go. I know I won't have to fiddle around with my goggles, and that I won't get any water leaking into my goggles during those 4 days. I also know that I won't have to tighten my goggles in order to create a lot of suction. It will just be more comfortable.
Second, the field of view is great – I think. The angled lenses mean that I have a great peripheral view and I won't feel as 'boxed in' as I might feel with a more traditional pair of goggles, or a mask.
Any particular version of THEMAGIC5 goggle you'll be packing in your bag when you head to Montenegro in September?
I am going to bring a couple of different colours to be sure I am ready for any scenario. I hope to get some sunny days, where our darker lenses, such as Black Magic Mirror Silver, will work great to protect my eyes. I also plan to bring another pair of mirrored swim goggles, in case the clouds decide to creep in. Having a pair of goggles with a lighter tint is not a bad idea for any open water race. I want to be able to be able to get the right level of tint for my swim. Something where I feel comfortable.