INFINIT Nutrition Unveils New and Improved Protein Recovery Drink Mixes
July 28, 2022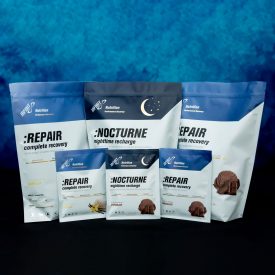 The relaunch of the Preset recovery line features a reformulation and redesign of their long-standing REPAIR and NOCTURNE products
Cincinnati, Ohio, July 28, 2022/ENDURANCE SPORTSWIRE/ – INFINIT Nutrition, the industry leader in personalized sports nutrition, has announced the release of its new and improved recovery preset product line.
Improving on the original formulas developed over a decade ago, REPAIR Complete Recovery and NOCTURNE Nighttime Recovery protein drink mixes will now feature:
Plant-based faba bean protein in lieu of soy
Enhanced natural chocolate flavor
Sleeker updated package design
Replacing soy, faba bean protein joins a nutritious mixture that includes two other complete proteins with varying absorption rates — fast-acting whey protein isolate and slow-releasing casein — to create a tri-protein profile for those looking to maximize post-workout muscle recovery.
"Nutrition is a constantly evolving science, and it's our job to stay up to date on the latest research and consumer trends to ensure our products are the best available on the market," says Vice President and Registered Dietitian, Laura Hering. "We made the choice to remove the soy protein from our popular REPAIR recovery blend, replacing it with a clean-tasting faba bean protein."
INFINIT reformulated the two recovery mixes to ensure the overall macronutrient profiles remained consistent to the original formulas — Including carbohydrates for glycogen resynthesis, branched-chain amino acids (BCAAs), and high quality complete proteins for muscle tissue repair.
INFINIT has also enhanced the flavor of REPAIR and NOCTURNE, with a new, richer chocolate flavor. The revamped recipe makes for a more robust chocolate taste and a deeper, more aromatic experience thanks to the incorporation of a new premium cocoa powder.
Regarding the improved flavor profile, INFINIT CEO, Michael Folan, explains, "It's everything you used to love about your favorite chocolate milk as a kid, made with all-natural ingredients for a richer chocolate flavor."
Apart from their personalized Custom product line, INFINIT's Preset retail product line is available for both wholesale and direct to consumer purchase, and can be found on their website (INFINITnutrition.us), Amazon, and the shelves of specialty retail stores nationwide.
About INFINIT Nutrition
INFINIT Nutrition is a sports nutrition company based out of Cincinnati, Ohio. Specializing in personalized nutrition, the company manufactures customizable drink mixes designed by dietitians to naturally maximize athletic performance and fitness results. Developed with the company's proprietary Osmo-FIT™ system, INFINIT hydration and protein ready-to-mix supplements are made with clean, natural ingredients and are formulated to be easy to digest, even in the most extreme conditions. For more information, visit infinitnutrition.us.