INFINIT Nutrition Announces 2023 Team INFINIT Elite Roster
February 23, 2023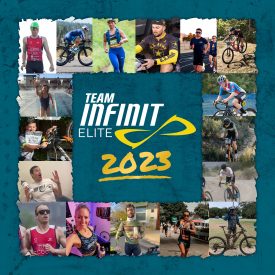 Team of 17 professional and elite athletes highlights INFINIT's commitment to personalized nutrition designed for every athlete.
Cincinnati, OH, February 23, 2023 /ENDURANCE SPORTSWIRE/ – INFINIT Nutrition, the original custom sports nutrition company is excited to unveil its 2023 Team INFINIT Elite roster, composed of seventeen athletes representing a variety of endurance disciplines including triathlon, cycling, mountain biking, and running.
"At INFINIT we have always felt that every athlete is unique, and the best solution is one that is made especially for their unique needs. Bikers are different than triathletes just like swimmers are different from runners," explained Michael Folan, Founder, and CEO of INFINIT. "Our diverse team shows how INFINIT really works for a huge variety of applications thanks to our ability to customize each product for the individual."
The team is anchored by 5-year INFINIT athlete Andy Potts whose legendary career in pro triathlon spans over 2 decades. Having competed in over 200 races, including as a member of the 2004 US Olympic Team, and with over 70 first place finishes, Potts is showing no signs of slowing down and credits his recent performance in part to finding the right nutrition. "INFINIT has been the key to my continued improvement and a huge weapon in my arsenal on my quest to my personal best," Potts explains.
The team also includes pro gravel cyclist and mountain biker Taylor Lideen. Four-time winner of the True Grit Epic 100 and 2021 Unbound Gravel XL champion, Taylor will be one of the athletes representing Team INFINIT in the Life Time Grand Prix off-road cycling series for the second consecutive year.
Potts and Lideen are just two of the 17 elite athletes that INFINIT will be supporting with personalized fuel, hydration, and recovery solutions including world-class triathletes, Paralympians, ultra cyclists, and powerlifters who will all be competing at the very highest levels of their sports throughout their 2023 seasons.
INFINIT Nutrition 2023 Athlete Team Roster
Andy Potts – Triathlon
Taylor Lideen – Gravel/Mountain Biking
Amber Ferreira – Triathlon/Snowshoe
Maddy Frank – Cycling/Mountain Biking
Elizabeth Barbosa – Olympic Weightlifting/Trail Running
Ginny Cataldi – Triathlon
Josh Tostado – Mountain Biking
Clara Brown – Para/cycling
Victor Cashes – Cycling
Caleb Cline – Cycling
Caleb Sprayberry – Cycling
Bradyn Lange – Cycling
Alycia Hill – Triathlon/Trail Running
Kayla Bowker – Triathlon
Trevor Foley – Triathlon
Kyle Coon – Paratriathlon
Owen Cravens – Paratriathlon
To learn more about the 2023 Team INFINIT Elite athletes visit INFINITnutrition.us
ABOUT INFINIT NUTRITION
INFINIT Nutrition is a worldwide sports nutrition company based out of Cincinnati, Ohio with production facilities in the US, Australia and the Czech Republic. Specializing in personalized nutrition, INFINIT manufactures customizable drink mixes designed by dietitians to naturally maximize athletic performance and fitness results. Developed with the company's proprietary Osmo-FIT™ system, INFINIT hydration and protein ready-to-mix supplements are made with clean, natural ingredients and are formulated to be easy to digest, even in the most extreme conditions. For more information, visit infinitnutrition.com.
###