INEOS Grenadiers Rider Cameron Wurf To Compete At Super League Triathlon Malibu
September 13, 2022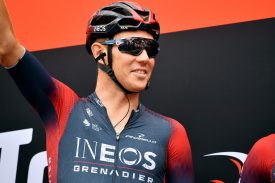 /ENDURANCE SPORTSWIRE/ – Wurf, the Australian pro cyclist who has also reached the pinnacle of long distance triathlon winning Ironman events and qualifying for the World Championships in Kona, Hawaii, will be taking on the kings of short course on the shores of Zuma Beach.
The 39-year-old will go head-to-head with some of the best cyclists in the sport such as Hayden Wilde and Jonny Brownlee as he sees whether he can mix it in the fastest formats in the sport.
Wurf said: "I am extremely excited but also absolutely petrified, crapping my pants, at the same time.
"I grew up as a kid on Sunday afternoons watching Macca (Chris McCormack) racing sprint triathlon on Channel 10 with Brad Bevan and Greg Welch and it was awesome to watch.
"That disappeared and then Super League came around about when I took up the sport and I've always followed it and wanted to be a part of it, watching it knowing it isn't the most suited to my characteristics but I want to experience it. Ideally I will do really well and get to do it again."
Wurf is a unique character. Having competed as a lightweight rower in the 2004 Olympics in Athens, the Tasmanian spent the next decade forging a career in professional cycling.
But it is since taking a year out and then embarking on professional triathlon in 2016 that he has risen to prominence. Immediately one of the best cyclists in the sport, he became renowned for his colossal race schedule – starting nine Ironmans in 2017, including victory in Ironman Wales in September.
It is on the Big Island of Hawaii where Wurf has really left his mark. Racing the Ironman World Championship there three times from 2017-2019 he has improved on each occasion from 17th to ninth and then fifth, with the fastest bike split each time – his best of 4:09:06 in 2018 breaking the course record he'd set the previous year.
Wurf isn't just a cyclist who can swim and run a bit though. He has developed the first and third legs alongside his formidable talents on two wheels and now consistently posts sub-3-hour marathons, with a best of 2:45:02 from Ironman Italy in 2019 – a race he won by more than 16 minutes.
However, Super League is an entirely different proposition. He laughed: "It's the opposite end of the spectrum to what I have focussed on, and coming into the sport so late and out of respect to Ironman and my limited time in the sport I have focussed on that rather than trying to do everything so this is quite exciting to see where I am at.
"I'm looking forward to being on the start line with everyone. It's a real honour for me. An entirely different field to what I've raced before.
"There are some great young stars. Some of them were only just being born when I was already in Europe competing in rowing in 2001 so they are a lot younger than me but I am really excited to spend the week with the crew and to compete."
Super League Triathlon Malibu takes place on Saturday, September 17, and is the third race of the 2022 Championship Series. For details on how to watch in your region please visit the Super League Triathlon website.