Inca capital in the Andes hosted GFNY Peru, world's highest bike race
April 12, 2022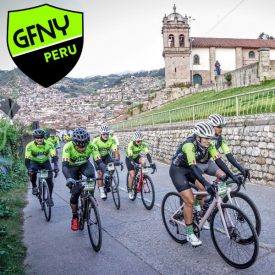 The second edition of GFNY Peru took place this past Sunday in historic Cusco
New York City, April 12, 2022/ENDURANCE SPORTSWIRE/ – The capital city of the Incas was once again the host for GFNY Peru. The racecourse covered 128.6km with 1729m of climbing, reaching up to a staggering 3780m above sea level, which makes the race world's highest mass participation road cycling race.
The race started off with a 7.5km climb up to the highest point of the race. It proved to be the race's decisive selection from the get-go.
In the women's race, Colombian Lina Paola Salamanca took first place in a time of 4:09:00, a whopping 21 minutes ahead of Peruvians Marilia Martínez and Giselle Ríos.
Allain Quispe (Tacna, Peru) took the win in 3:29:17 with a dominating 5 minute lead.  Meanwhile, second place was decided in a sprint with Venezuelan Jorge García who beat Alonzo Gamero (Arequipa, Peru).
"It was amazing to be able to participate for the second time in the highest mass participation cycling race in the world!" said Caroline Lindsay, GFNY's Press Officer and Peruvian local. "And doing so in such a magical city as Cusco, in the middle of the spectacular Andes mountains and at such high altitude is extra special. I will definitely be back in 2023!"
Next up on the GFNY calendar is the 10th GFNY World Championship in New York City on May 15. 5000 riders from over 90 countries will battle for the crown of the GFNY World Champion.
Website: peru.gfny.com
About GFNY Global Endurance Sports Series
GFNY Global Endurance Sports Series is a sports event company with three decades of experience in racing, planning and organising events. The global endurance sports brand hosts multiple events throughout the year around the world on five continents.
Working with partners around the world to deliver a first-class experience, GFNY Global Endurance Sports Series puts their athletes first.
Cycling
30 plus events around the world. View the 2022 calendar here
Riders get to BE A PRO FOR A DAY ® by competing against others, themselves and the clock in a personal endurance challenge.
Top 10% (20% at regional championships) of finishers in each age group qualify for the Racer Corral at every GFNY World event.
GFNY World Championship NYC
The 10th annual GFNY World Championship New York will be held on May 15, 2022. The race features the world's most international peloton with riders from over 90 countries. Athletes take on a challenging 100-mile route from NYC to Bear Mountain to Fort Lee to compete against each other, the clock and themselves in a personal endurance challenge.
The official GFNY website is: www.gfny.com.
Further Material for Media Use
GFNY Press Images: here
GFNY Results: here
GFNY World calendar graphic: here
Previous GFNY press releases: here
Media Contact
Gran Fondo New York Inc.
Uli Fluhme, uli@gfny.com
Caroline Lindsay, caroline@gfny.com