Inaugural Ford GFNY Zapopan Guadalajara this Sunday
September 29, 2022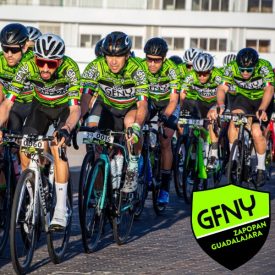 GFNY descends on Mexico's metropolis for yet another race in the country
Ford GFNY Zapopan offers riders a long race course of 129.3km with an elevation gain of 875m. Start and finish will be hosted at the historic centre in front of the Basilica of our Lady of Zapopan.
Most of Zapopan is flat and surrounded by only a few hills, which makes it a very fast race. Right at the start of the race, riders will enter the JVC Circuit onto the Guadalajara Tepic Freeway. The course passes the historic center with its many tourist attractions.
"We're excited to bring GFNY to such a vibrant city which has welcomed us with open arms," says Parides Sports Management CEO Shaun Gad. "Rarely have I worked with a government that has such passion for cycling and is ready to bring all the support needed for a perfect race."
Race week activities will take place at the Estadio Akron. It includes the traditional GFNY Group Ride on Saturday where cyclists get to enjoy a casual ride together.
Zapopan, located in Jalisco, was conquered by the Spanish in 1541 and is surrounded by historic sites and colonial style streets. It is the perfect opportunity for riders and families to immerse in Mexican history, flavors and traditions.
Website: zapopan.gfny.com
About GFNY Global Endurance Sports Series
GFNY Global Endurance Sports Series is a sports event company with three decades of experience in racing, planning and organising events. The global endurance sports brand hosts multiple events throughout the year around the world on five continents.
Working with partners around the world to deliver a first-class experience, GFNY Global Endurance Sports Series puts their athletes first.
Cycling
30 plus events around the world. View the latest calendar here
Riders get to BE A PRO FOR A DAY ® by competing against others, themselves and the clock in a personal endurance challenge.
Top 10% (20% at regional championships) of finishers in each age group qualify for the Racer Corral at every GFNY World event.
GFNY World Championship NYC
The 11th annual GFNY World Championship New York will be held on May 21, 2023. The race features the world's most international peloton with riders from over 90 countries. Athletes take on a challenging 100-mile route from NYC to Bear Mountain to Fort Lee to compete against each other, the clock and themselves in a personal endurance challenge.
The official GFNY website is: www.gfny.com.
Further Material for Media Use
Official GFNY Zapopan Video: here
GFNY Press Images: here
GFNY Results: here
GFNY World calendar graphic: here
Previous GFNY press releases: here
Media Contact
Gran Fondo New York Inc.
Uli Fluhme, uli@gfny.com
Caroline Lindsay, caroline@gfny.com