Inaugural Challenge Sanremo Attracts 48-Strong International Pro Field to Italian Riviera
September 19, 2022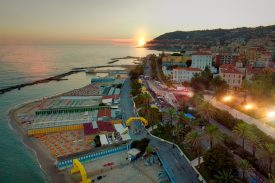 19 September 2022 /ENDURANCE SPORTSWIRE/ – With only a few races so far this year due to injury, Pablo Dapena González (ESP) is lining up fit and ready to race next Sunday, 25 September as the top seed at the first edition of Challenge Sanremo on the Italian Riviera. Among the women, most eyes are likely to be on Lucy Byram (GBR). Both will face stiff competition from a 48-strong international pro field in what promises to be exciting race over this tough and honest new course.
Dapena González can look back on a good summer, including a win at Lotto Challenge Gdansk at the end of June. That victory in Poland undoubtedly gives him a lot of confidence heading into Challenge Sanremo, where he will face competition from the likes of highly-ranked William Mennesson (FRA) as well as Florin Salvisberg (SUI), Thomas Bishop (GBR), Michael Raelert (GER), Gregory Barnaby (ITA), Alessandro Degasperi (ITA) and Mattia Ceccarelli (ITA) who will all have their eye on that top podium spot. The latter three athletes enjoy the home advantage with strong crowd support pushing them on.
Like Dapena González, Lucy Byram, can also look back on a good summer with her win at the inaugural Challenge Wales. With that knowledge, Byram will again want to do everything in her power to be the fastest in Sanremo and knows this is certainly possible. Just like the men's race, the women's pro field is deep and anything is can happen on the day. Most competition will come from Aleksandra Jedrzejewska (POL), Emma Bilham (SUI), Nina Derron (SUI) and Lena Berlinger (GER) among others.
The Challenge Sanremo swim takes place from the beautiful Bagni Paradiso Beach and consists of one 1.9km lap. During the single lap 90km bike, over 1,500 vertical metres will be climbed, including a section with a gradient of 10 percent and the stunning downhill that is part of the famous Milano-Sanremo cycle race. By comparison, the run is flat along the ocean front with three laps before finishing in the heart of Sanremo on the shores of the Mediterranean.
Challenge Sanremo will take place on 25 September with the pro race starting at 8:20am CEST. Live updates, including a live stream (Italian and English), live timing and live race updates are available via www.challenge-family.live.
-ends-