Inaugural Bruce Lee Challenge Announced for 2023
June 7, 2023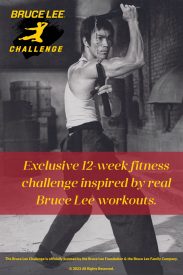 All-ages and all-abilities invited to celebrate the 50th anniversary of the life and legacy of Bruce Lee Sign up and receive a Bruce Lee t-shirt, branded medal, custom training plan and more Registration is open at bruceleechallenge.com
San Diego, CA /ENDURANCE SPORTSWIRE/ – "The Key to immortality is first living a life worth remembering." The inaugural Bruce Lee Challenge is underway until December 31st.
"Willing is not enough, we must do." The Bruce Lee Challenge features a custom 12-week training program inspired by Bruce Lee's workout regime. Additionally, each week, there is a theme that aligns with one of Bruce Lee's philosophies, and a weekly fitness challenge. Participants are encouraged to complete the program's 4-5 days of strength training, 2-3 days of cardio training, and the weekly challenge. For example, the first week's challenge is to complete a plank for as long as possible. The program takes place from now until the end of the year which encompasses the 50th anniversary of Bruce Lee's passing – July 20th.
Bruce Lee Challenge participants will receive an official Bruce Lee commemorative tracksuit jacket, running tech t-shirt with the 50th Anniversary remembrance logo, an exclusive finisher medal, a custom race bib. For those that don't want to take on the 12-week program there's a Bruce Lee 5-mile virtual run option, Lee's favorite running distance. Bruce Lee run participants will receive the official Bruce Lee running tech t-shirt, exclusive finishers medal, and a custom race bib.
"My dad didn't see limitations in himself or in other people. He did what he did his way and left behind an extremely unique footprint," said Shannon Lee, Chairperson of the Board of Directors for the Bruce Lee Foundation. The Bruce Lee Foundation was formed with the goal to share the art and philosophy of Bruce Lee with the world and generations to come. Today, this vision has evolved to actively inspire confidence, motivate action, bridge cultures, and champion humanity. "We believe that Bruce Lee's life and the endeavors of the foundation have the power to ignite positivity in the world." A portion of the proceeds will benefit the foundation and participants can make additional contributions at the time of registration.
Bruce Lee, world famous martial artist and actor, paved the way for modern martial arts by founding Jeet Kune Do, a hybrid martial arts philosophy drawing from different combat disciplines. Workouts for the Bruce Lee Challenge are created directly from workouts in Bruce Lee's training journal; into which a sneak peek is generously provided by the Bruce Lee Foundation.
"As our team dove into the life and legacy of Bruce Lee, we became inspired." said Jamie Monroe, whose company Easy Day Sports partnered with the foundation on the Bruce Lee Challenge initiative. "We wanted to create a 12-week fitness plan that would not only get you in great shape, but also expose today's generation to a man that is still making a major impact on the world today". In addition to producing lifestyle running and cycling events, Easy Day Sports partners with major brands to create fitness experiences that resonate with the active consumer.
Registration for the Bruce Lee Challenge is open and can be started anytime before the end of 2023. Interested participants can learn more and register at bruceleechallenge.com.
About Bruce Lee
Bruce Lee was a Hong Kong and American martial artist, actor, philosopher, and filmmaker. He was the founder of Jeet Kune Do, a hybrid martial arts philosophy drawing from different combat disciplines that is often credited with paving the way for modern mixed martial arts (MMA). Lee is considered by critics, media, and other martial artists to be the most influential martial artist of all time and a pop culture icon of the 20th century, who bridged the gap between East and West. He is credited with promoting Hong Kong action cinema and helping to change the way Chinese people were presented in American films.
About Easy Day Sports
Headquartered in Coronado, CA, Easy Day Sports is a dynamic event production agency that focuses on premier, professionally managed endurance sports events.
We have a fun, easy day culture and convey a calm confidence in our work, but within our name there is more. Deeply inspired by the Navy SEAL motto- "The only easy day was yesterday." We embody superior event production and a tireless commitment to excellence.