"I feel Slovenia" – Virtual Tour of Slovenia Starts with Matej Mohorič and Jaka Špoljar
February 24, 2021
Ljubljana, Slovenia - The Virtual Tour of Slovenia on ROUVY by "I feel Slovenia" starts with the first group ride event today and stage race #1 on Feb 27th. Global cycling community is welcome to join and enjoy the realistic landscapes of Slovenia and ride in either the competitive or the noncompetitive format with the Slovenian pros!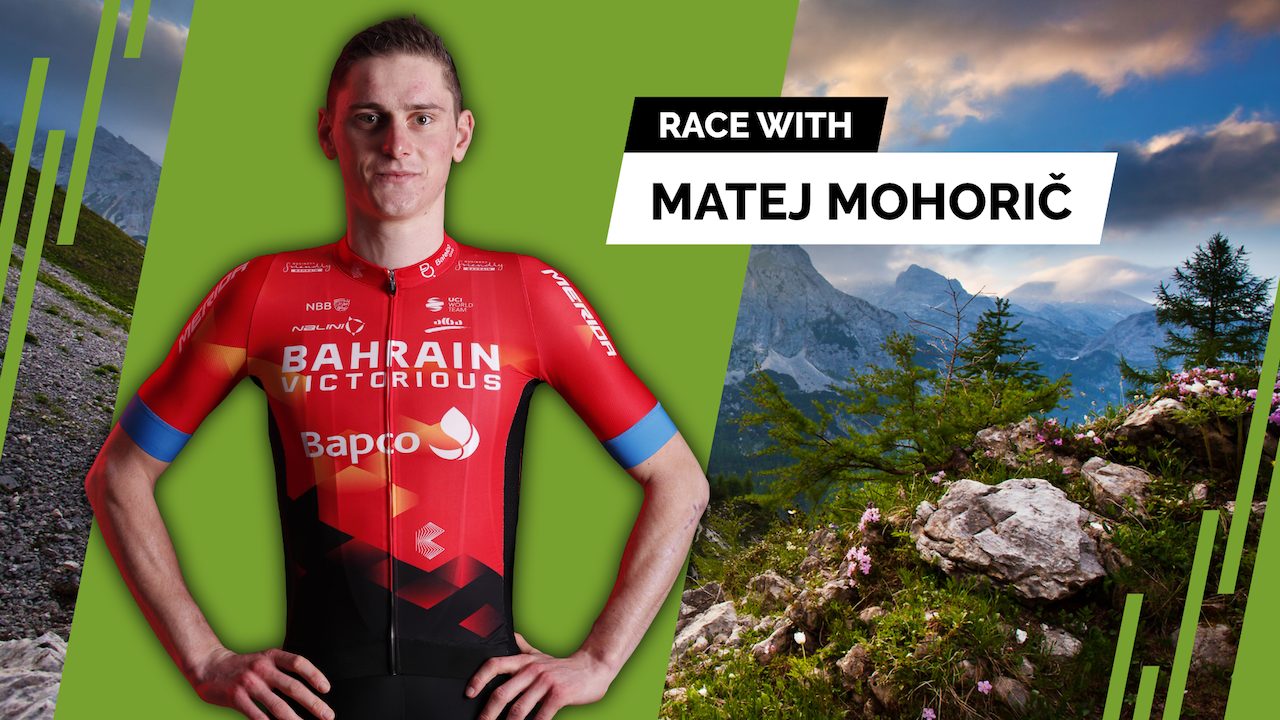 Ljubljana, Slovenia / February 24, 2021 – The already announced race series and events of "I feel Slovenia", organized by Sport Media Focus, Slovenian Tourist Board and Adria Mobil Cycling Team, start today. Riders will experience the classic country views of Slovenia and the friendly competition it brings.
WEEK 1 ROUTE REVIEW – Tour of Slovenia | Cerklje – Krvavec
The climb to the Krvavec Ski Resort is one of the most famous in Slovenia. Vincenzo Nibali won this crucial ascent in the Tour of Slovenia, 2010 edition. Last year, the Krvavec was also the final stage of the Slovenian National Championship, on which Primož Roglič, the current UCI world  number one, celebrated his victory. The most difficult stretch of the climb is in the first part, about three kilometers long. The course has a total distance of 13,8 km, with an 8% average grade and a 1035 m of elevation (the race route is published and available here).
 Group Ride #1 | February 24th | 19:00 CET
Special Guest/Group Ride Leader: Jaka Špoljar (on Insta)
Team: Adria Mobil Cycling Team
Registration for the event is here.
RACE #1| February 27th | 19:00 CET
Special guest: Matej Mohorič (on FB and Insta)
Team: Team Bahrain Victorious
Stage sponsor: Generali
Live streaming: Race will be Broadcast Live here.
Registration for all of the "I feel Slovenia" – Virtual Tour of Slovenia events is here.
Matej Mohorič, Team Bahrain Victorious
Pro-rider bio:Born on 19 October 1994, in Kranj, Slovenia, Mohorič currently resides in Podblica, Slovenia. Mohorič won the 2012 UCI World Junior Road Race Championships and the 2013 UCI World Under-23 Road Race Championships, becoming the first rider to win the world junior and the under-23 titles in consecutive years. Mohorič secured his first Grand Tour stage win when he soloed to victory in Stage 7 of the 2017 Vuelta a España. In Stage 10 of the 2018 Giro d'Italia he took his second win in a Grand Tour, winning a two-man sprint against Nico Denz. In July 2019, he was named in the start list for the 2019 Tour de France. He also participated in the 2020 Tour de France.
###
Media contact
For additional information please contact:
KK Adria Mobil: Bogdan Fink, bogdan.fink@adria-mobil.com, +386/ 41 766 322
Media support: Rok Šinkovc, rok.sinkovc@sportmediafocus.com, +386/ 41 713 232
About Tour of Slovenia
Tour of Slovenia is the largest cycling event in Slovenia, which every year increasingly attracts more and more people, who follow and watch the race either at the race track or through different media channels. The very first Tour of Slovenia was organized in May 1993, just one year after the Slovenian cycling organization became a member of the international cycling association, the UCI. The Slovenian tour has continuously grown and developed and today, after successfully finishing it's 25th edition, it attracts world's best cyclists and cycling teams to compete and demonstrate their skills on picturesque Slovenian roads, where images of landscapes change from Alpine, Pannonian to Mediterranean area. With world-class partners and a new slogan "Fight for green", the Tour of Slovenia is gaining new momentum and is, aside from being a top cycling event, becoming also one of the main events for the international promotion of Slovenia as a five-star tourist destination.
About Slovenian Tourist Board
The Slovenian Tourist Board (STB) is a national tourist board that plans and carries out the marketing of Slovenia's comprehensive tourist products and services and ensures the sustainable development of Slovenian tourism.
About ROUVY
ROUVY is a digital racing platform for athletes all over the world to compete, ride with friends for fun, do workouts and much more. ROUVY offers thousands of virtual locations and training options, including the chance to take part in virtual races and cycle through the entire route catalog. Thanks to simulated but fully realistic efforts, ROUVY is the best option for the most ambitious and toughest athletes to prepare for the next race day. www.rouvy.com.