Hyland's Announces Official Team for San Diego Belgian Waffle Ride
July 1, 2021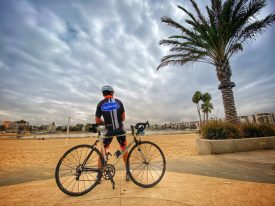 Hyland's team brings wealth of endurance racing experience to the Canyon BWR
LOS ANGELES – July 1, 2021 –Hyland's, a trusted leader in products to support a healthy, active lifestyle, today announced their official team for the first Belgian Waffle Ride of 2021, known as the Canyon BWR or the "Hell of the West." Led by coach and elite cyclist Paul Thomas, the team will tackle the San Diego Belgian Waffle Ride in North County San Diego on July 18, 2021.
During the 2021 race season, Hyland's is sponsoring the Belgian Waffle Ride series as the Official Cramp Relief Sponsor, and will provide Leg Cramps products at aid stations along the BWR San Diego route. The punishing 135-mile race route includes more than 12,000 feet of climbing and 49 miles of off-road terrain.
The athletes named to the San Diego BWR roster include: Anne Donley, Chris Drush, Dac Nguyen, Dale Lister, Dave Callender, David French, Deanna Duke, Diana Nestande, Gerald Milford, Hilary Heskett, Jeff Welch, Jennifer Real, Michael Lemos, Min Park, Paige Redman, Tanner Smith, Tom Hodge, and Wilis Johnson. The team includes athletes from age 29 to 65, spanning the country from Texas to Hawaii.
"We're incredibly proud to announce this team of impressive athletes for the San Diego Belgian Waffle Ride," said Lisa Shapiro, Brand Director at Hyland's. "These athletes have tackled everything from Ironman events to centuries, double centuries, and marathons. They bring a wealth of experience with endurance sports, and we're very excited to see them come together to race the Waffle in San Diego."
To support the achievements of their ambassadors and endurance athletes everywhere, Hyland's offers a wide array of recovery-focused products, including their signature Hyland's Leg Cramps tablets, Leg Cramps Ointment, Muscle Therapy Gel with Arnica, ArnicAid, ArniSport, and Bioplasma Sport. To learn more about the Hyland's Powered teams, follow @hylandspowered on Facebook and Instagram, or visit Hylands.com/powered.
###
ABOUT HYLAND'S
Hyland's, Inc. develops homeopathic medicines with the highest- quality natural ingredients, following the strictest standards of preparation*. With its commitment to excellence for over a century, Hyland's consistently provides quality and integrity in every product. From Hyland's Baby Nighttime Tiny Cold Syrup to Hyland's Calms Forté, Hyland's cares for families at every stage of life. Consumers can trust all Hyland's products to be natural, gentle, effective, and safe for the entire family. For more information on products, visit www.hylands.com
*Claims based on traditional homeopathic practice, not accepted medical evidence. Not FDA evaluated.
ABOUT MONUMENTS OF CYCLING
Monuments of Cycling is committed to delivering the most unique cycling events in the country, offering experiences for the most elite athletes on the planet, as well as those in awe of them, through the creation of world-class races that engage riders in myriad and unexpected ways. Our mission is to inspire riders of all stripes to reach, grow and aspire to new levels of fulfillment and joy, finding new ways to test their physical and mental fortitude. To learn more, visit www.MonumentsofCycling.com or contact Michael Marckx at mmx@monumentsofcycling.com.