Hyland's Powered Announces 2021 Ambassador Lineup
March 31, 2021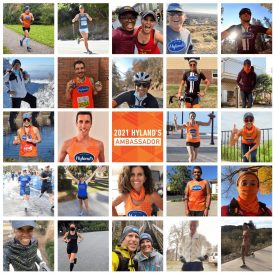 Ambassador team embraces community, camaraderie, and excellence
LOS ANGELES – March 31, 2021 – Hyland's, a century-old leader in creating products to support a healthy, active lifestyle, is proud to announce its 2021 Hyland's Powered Ambassador Team. The Hyland's Powered team includes 85 marathoners, ultrarunners, triathletes and cyclists from 27 states who will represent the brand at high-profile events all over the United States, including the Boston Marathon®, the Belgian Waffle Ride series, and the REVEL Race Series.
This year's impressive class includes sub-three marathoners, IRONMAN triathletes, and Leadmen and features 61 returning athletes joined by 24 new ambassadors, each of whom had previously represented Hyland's in at least one race. The new ambassadors will be joining an already tight-knit community of runners and cyclists. The entire team will sport the new Hyland's Powered ambassador singlet in the distinctive bright orange that makes the team members easy to spot at races all over the United States.
Because of the COVID-19 pandemic, this Hyland's Powered team has been particularly inventive when it comes to creating community and sustaining their passion for the sport of running. As Rachel Aslan, a new ambassador from Pennsylvania for 2021, reflected, "Being a part of the Hyland's family meant there was no shortage of support, encouragement, and enthusiasm, including a good dose of fun team challenges! In a year filled with social distancing, I felt connected to a group of incredible athletes."
While gathering to race the Boston Marathon is typically the highlight of the race calendar for Hyland's Powered, the team came together virtually during 2020, organizing several "Quaran-Team" fun running challenges. As Julie Hinson, a returning ambassador from Oregon, said, "Without a doubt, being a part of this team with all of the challenges and encouragement helped me get through 2020 as a frontline healthcare worker. I love being part of the Hyland's family."
"We've seen incredible camaraderie from our Hyland's Powered ambassadors this year," says Lisa Shapiro, Brand Director at Hyland's. "We're so ready to see this team come together in person. We have so much in the works for 2021, from running races to cycling events and even an athlete retreat. Regardless of how the year shakes out, we know that this is a strong community that will continue pushing each other to be better athletes and people. We're really proud to name these athletes as our Hyland's Powered ambassadors."
To support the impressive achievements of their ambassadors and athletes everywhere, Hyland's offers a wide array of recovery-focused products, including their signature Hyland's Leg Cramps tablets, Leg Cramps Ointment, Muscle Therapy Gel with Arnica, ArnicAid, ArniSport, and Bioplasma Sport. To learn more about the Hyland's Powered Ambassador program, follow @hylandspowered on Facebook and Instagram, or visit Hylands.com/powered.
###
ABOUT HYLAND'S
Hyland's, Inc., a division of Standard Homeopathic Co., develops homeopathic medicines with the highest- quality natural ingredients, following the strictest standards of preparation*. With its commitment to excellence for over a century, Hyland's consistently provides quality and integrity in every product. From Hyland's Baby Nighttime Tiny Cold Syrup to Hyland's Calms Forté, Hyland's cares for families at every stage of life. Consumers can trust all Hyland's products to be natural, gentle, effective, and safe for the entire family. For more information on products, visit www.hylands.com.
*Claims based on traditional homeopathic practice, not accepted medical evidence. Not FDA evaluated.