Hyland's Doubles Down on Cycling, Adding Paul Thomas to the Hyland's Powered Family
June 28, 2021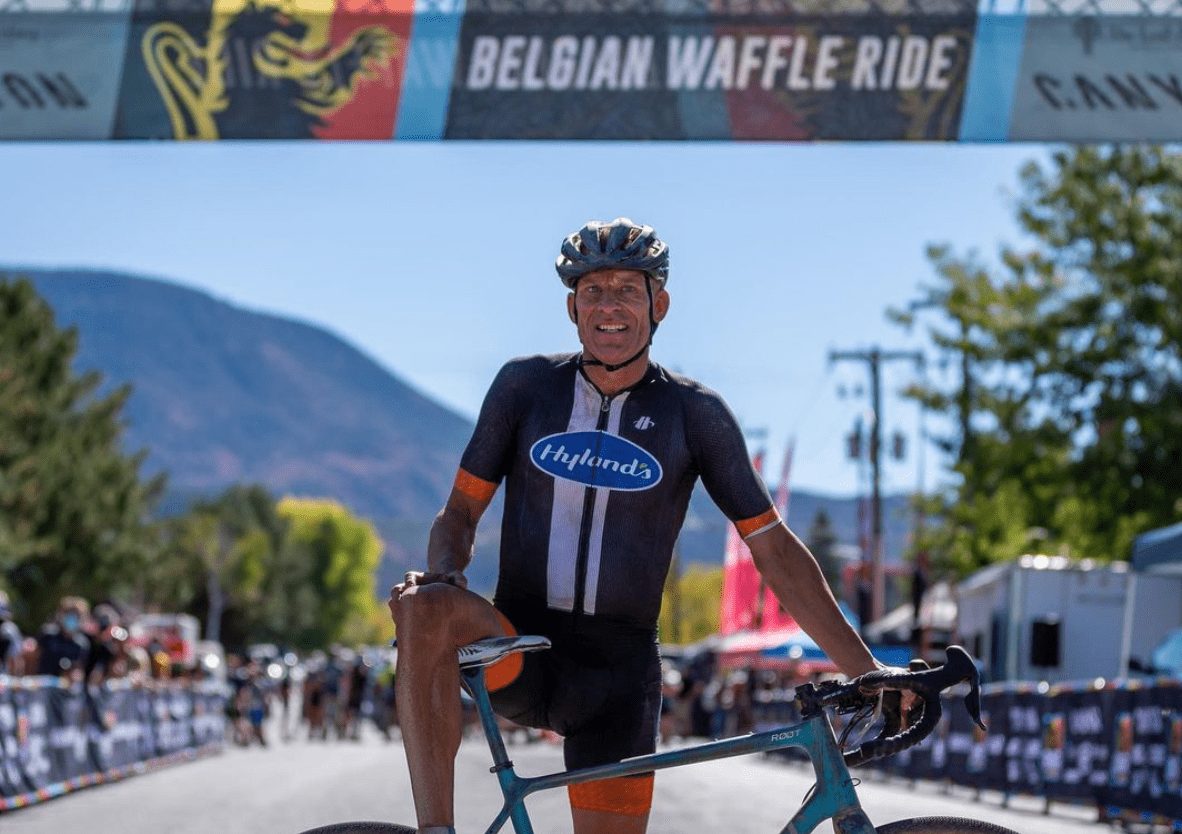 Powerhouse cyclist and runner joins the Hyland's Powered Team
LOS ANGELES – June 28, 2021 – Hyland's, a century-old leader in products to support a healthy, active lifestyle, is proud to announce the addition of elite cyclist Paul Thomas to the Hyland's Powered athlete roster. Thomas will support the cycling initiatives of Hyland's Powered, including coaching their cycling teams at the 2021 Belgian Waffle Ride Series. Hyland's is an official sponsor of the Belgian Waffle Ride Series and will field teams for the 2021 BWR Tripel Crown events in San Diego, CA, Cedar City, UT, and Asheville, NC. One of Thomas's primary roles will be to prepare the Hyland's teams for the 100+ grueling miles of racing on dirt, gravel, and road.
A legendary endurance athlete, Thomas is certainly qualified for this leadership role, having competed at the national level for 40 years, first as a runner and now as a cyclist. He won his first U.S. championship at 11 years old with a 4:55 mile and followed that up with a national high school title in 1987. For the last ten years, Thomas has focused on cycling, winning 12 more professional and state championships. His most recent wins include the 2020 Arizona State Hill CIimb Championships, El Tour de Tucson Tandem 2019, and the Arizona State 40K Time Trial Championship.
While his personal accolades are extensive, he is also passionate about coaching, sharing knowledge and experience with athletes of all abilities. Throughout the pandemic, Thomas encouraged the Hyland's Powered team to focus on the quiet gains that take place in long stretches of steady training. He has also served as a pro rider for Hyland's new video series, Great Rides Powered by Hyland's, which highlights epic rides with beautiful vistas from around the United States, and encourages cyclists to experience these beautiful but demanding routes for themselves.
"We are so pleased to have Paul Thomas join Hyland's Powered to lead our cycling initiatives and captain our Belgian Waffle Ride teams," said Lisa Shapiro, Brand Director at Hyland's Powered. "Paul brings a wealth of experience, both as an athlete and a coach, along with a killer competitive instinct."
To support the impressive achievements of their team and athletes everywhere, Hyland's offers a wide array of recovery-focused products, including their signature Hyland's Leg Cramps tablets, Leg Cramps Ointment, Muscle Therapy Gel with Arnica, ArnicAid, ArniSport, and Bioplasma Sport. To learn more about the Hyland's Powered team, visit Hylands.com/powered.
To learn more about Paul Thomas, follow him on Instagram @paul_thomas_hylands_ and connect with @hylandspowered on Facebook and Instagram.
###
ABOUT HYLAND'S           
Hyland's, Inc., a division of Standard Homeopathic Co., develops homeopathic medicines with the highest-quality natural ingredients, following the strictest standards of preparation*. With its commitment to excellence for over a century, Hyland's consistently provides quality and integrity in every product. From Hyland's Baby Nighttime Tiny Cold Syrup to Hyland's Calms Forté, Hyland's cares for families at every stage of life. Consumers can trust all Hyland's products to be natural, gentle, effective, and safe for the entire family. For more information on products, visit www.hylands.com.
*Claims based on traditional homeopathic practice, not accepted medical evidence. Not FDA evaluated.