Hybrid events with fused in-person and do-anywhere results
September 30, 2021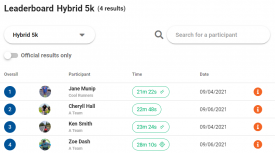 Sodisp is the most complete and engaging platform to host hybrid events and challenges. The only platform with Strava, Garmin, and Polar auto-sync. Start your hybrid event or virtual challenge today on sodisp.com!
Sodisp is the only challenge platform available to support fused leaderboards, showing both official and self-timed results in the same leaderboard! Hybrid events are a mix of both in-person race results (which are typically timed using professional timing equipment) and do-anywhere self-timed results (either by GPS app/watch or manual entry).
The first event to use the new hybrid options will be the Mermaid Run San Francisco on November 14th. "Since the pandemic we've been fortunate to use the Sodisp virtual platform to not only engage our participants, but also to grow our geographic reach," says Carlo Facchino, owner of the Mermaid Series. "Now that we are returning to in-person events, we're excited to be the first to offer a true hybrid event that will integrate our in-person event with our expanded virtual audience."
Types of Hybrid Events
You can add any combination of these hybrid options to your event:
Hybrid Race: allow participants of your race to either do the in-person or do-anywhere edition and show all results in the same leaderboard.
Hybrid Team Challenge: encourage in-person participants to invite their friends to join a hybrid team challenge where their combined results count towards the leaderboard.
Hybrid Distance Challenge: allow participants to complete one of the available distances at the in-person event and the other distances at their own time and location.
Training Plans: providing training plans to your participants in the weeks leading up to race day is a great opportunity for increasing sponsor value and getting your participants in shape for your event. Training plans can be offered as an up-sell during registration to further monetize your fan-base.
Post-event virtual challenge: offer a post-event 'stay active' challenge to your participants. This is a great way to keep participants engaged with your event and sponsors, even after race day. Why not use the challenge to get them in shape and registered for your next event?!
We also support pure virtual and pure in-person result leaderboards.
Use friend referrals to drive registration
Use our newly released integrated friend referral tool (which can be linked to all registration systems) to encourage your participants to invite their friends to join them in the challenge. This provides a unique opportunity to expand the reach of your event, far beyond the area where your traditional participants may come from!
Claiming Results
A very powerful feature of the hybrid leaderboards is that they allow participants to claim their results. This will take their imported results and connect it with their profile. This allows them to upload photos and selfies to their results and, when the event allows it, to improve their result with a connected fitness app or device.
Full-service or self-service packages
With our Full-Service package we'll do the setup, configuration, and support for your event. Just tell us how you want it to look and work and we do everything else! You still have access to all reports and data.
With our Self-Service package you're in charge of your event and end user support. We are always available for help in case you have a question.
Auto-sync with all major fitness brands for the best possible experience
Using our unique Garmin, Strava, Fitbit, MapMyRun, Polar, Suunto, and COROS integrations, owners of these devices can automatically sync their activities the moment they save an activity on their app/watch! We will take their activity and connect it with the virtual challenges they participate in.
We also support manual entry and the upload of gpx files to allow everyone to join the challenge. We automatically validate each activity based on the selected activity type to keep leaderboards clean.
Host your virtual or hybrid event on sodisp for the ultimate experience
Hosting a hybrid event or virtual challenge on sodisp is easy; using our powerful self-service tools help you can go live within a day! Competitive pricing solely based on the actual number of registrants for your event with no up-front or hidden fees. Do you have a larger event or questions about a white-label or tailor-made solution? Contact us to discuss pricing and possibilities.
Contact us (or request a demo) at hello@sodisp.com to learn how we can support you with your hybrid or virtual challenge.
About sodisp: sodisp.com was launched in May of 2020 by the founder of the largest running app in The Netherlands with over 10 years of experience in the endurance sports industry. sodisp.com is the most engaging challenge platform available on the market. Feel free to contact us at hello@sodisp.com.