HOLOS Expands Overnight Muesli Lineup with All-New 'Berries' Flavor
May 25, 2023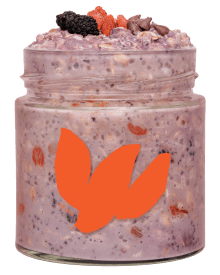 Inspired by the beloved fresh tastes of berry season, the brand's own Berries variety delivers classic flavors with a unique twist
Québec City/ May 25, 2023/ENDURANCE SPORTSWIRE/ –HOLOS, the organic overnight muesli 'superfood' brand fueling human vitality and providing sustained energy for the long run, today announces its newest flavor variety: Berries.
HOLOS' Berries muesli combines black mulberries with blueberry, strawberry and blackcurrant powders for a 'fruit-filled explosion of flavor.' It's topped with fair-trade dark chocolate chips, adding an additional element of texture and taste to this delicious flavor variety. It's also packed with antioxidants, vitamins and minerals, and – like all of HOLOS' organic muesli blends – features 20 grams of plant protein and one billion CFU probiotics.
Turning to berries as the basis of its newest flavor was a "natural" direction for the brand, as they have long been a beloved addition to breakfast cereals, said Samuel T. Scofy, co-founder and chief marketing officer at HOLOS.
"As berry season approaches, we are reminded of the tantalizing blend of sweet, tangy, and refreshing flavors found in our favorite berries," Scofy said. "We wanted to bring these same sensations to our muesli, but do it in a way that was unique to HOLOS. To create our Berries flavor, we started with a base of classic berry blends, and added our own twist by incorporating the blackcurrant and dark chocolate. Although we took a more refined approach, this flavor still has layers of the quintessential berry aroma that we all know and love."
With the addition of the new Berries flavor, HOLOS expands its lineup of organic overnight muesli blends to seven great-tasting flavor varieties. Other available flavors include: Apple + Cinnamon, Caramel + Raisins, Chai, Cocoa, Maple + Almonds, and its best-selling Vanilla.
Founded in 2016, HOLOS is laser-focused on its mission to transform and elevate the breakfast category, for everyone from world-class athletes to all those with a fast-paced lifestyle. For more information, visit liveholos.com.
About HOLOS
Based out of Quebec City, Canada, HOLOS is the ultimate feel-good fuel for anyone with an active lifestyle. The brand's creamy, crunchy, certified USDA organic overnight muesli blends combine whole grains, plant proteins (20 grams!), seeds, probiotics, and dried fruits for an ideal 'superfood' meal to power the body and mind, leave consumers feeling satisfied, and provide sustained energy to last well into the day. Available in six unique, tasty flavor varieties and endlessly customizable, HOLOS muesli is easy to prepare, and perfectly convenient to take on-the-go. HOLOS' holistic breakfast system is gluten free, vegan, sugar conscious, and easy on the gut. For more information, visit liveholos.com, or @liveholos on Instagram.
# # #