History & Heritage Race Showcases C-124 Cargo Aircraft
June 1, 2023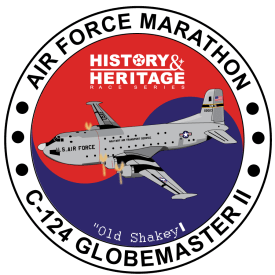 WRIGHT- PATTERSON AIR FORCE BASE, Ohio /ENDURANCE SPORTSWIRE/ – The Douglas C-124 Globemaster II will be the fourth retired aircraft to headline the 2023 History & Heritage Race Series, powered by the Air Force Marathon, beginning July 1.
The event marks the fourth of six virtual races during the series's third season. Each event features its own historical aircraft vital to the Air Force's past. All can be found in the National Museum of the U.S. Air Force. Registration for this year's races began Dec. 1.
Known as "Old Shakey," the Douglas C-124 Globemaster II was a heavy-lift cargo plane that was primarily used to transport supplies and personnel during the 1950s and 1960s, seeing service during both the Korean and Vietnam Wars. The aircraft was known for its ability to carry a payload of over 80,000 pounds, making it possible to airlift tanks and other cumbersome equipment. Once replaced by more modern platforms, the Globemaster II was transferred to various Air Force Reserve and Air National Guard units until it was finally retired in 1974.
History & Heritage Race Series competitors will receive a patch and information card highlighting the marquee aircraft, finisher's medal and downloadable completion certificate.
Runners have the option to compete in the marathon, half marathon, 10K or 5K. Each participant may also run or walk the full distance at any destination of their choosing. Results can be uploaded using a GPS-tracking app that confirms time and mileage, but this step is not required to receive your race packet.
For more information and to register for the race, visit https://www.usafvirtual.com. To learn more about the Globemaster II, visit https://www.nationalmuseum.af.mil/Visit/Museum-Exhibits/Fact-Sheets/Display/Article/196101/douglas-c-124-globemaster-ii/.