Hendersonville Local Luca Shaw and Anna Newkirk Win 2023 Elite Downhill National Titles at Ride Rock Creek
July 18, 2023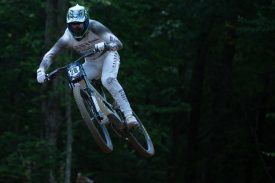 Pinkerton takes his fourth Junior title, and Kushman wins her first Junior Title.
RIDE ROCK CREEK, N.C. /ENDURANCE SPORTSWIRE/ – The 2023 USA Cycling Gravity Mountain Bike National Championships concluded on Sunday in Zirconia, North Carolina. The final day of competition saw hundreds of athletes vying for the national downhill title across multiple age groups. Athletes from across the country took to the three-quarter of a mile track to beat the clock.
UCI Elite Downhill
Reigning two-time National Champion Dakotah Norton (Clinton, Tenn.; Intense Factory Racing) had the fastest time on Saturday for his seeding run finish at 2:06.48. Luca Shaw (Hendersonville, N.C.; Canyon Cllctv) was not far behind with a 2:07.05, but times were sure to be faster in Sunday's final runs.
Shaw knew this was a special race so close to home. He lives 30 minutes from the track and slept in his own bed on race day. He has never won the Elite National Championship before, and if he were going to do it anywhere, it would be at Ride Rock Creek.
Austin Dooley (Yucaipa, Calif.; Commencal / Schwalbe) would be the first rider down to go under the 2:06 mark for the day. Dante Silva (Chula Vista, Calif.; Canyon Cllctv) would finish in the same second, but Dooley would still be faster. It all came down to the local hero Shaw and reigning Champion Norton. Shaw crossed the line with a 2:05.18. That put Shaw, Dooley, and Silva in the same second for the top 3 finishers. The crowd anxiously awaited Norton to cross the line, and he would finish with a time of 2:06.65, putting him in sixth after a crash out on the course. That gave Shaw the fastest time of the day and his first Elite National Championship title in his local community.
For the Junior 17-18 Men, Ryan Pinkerton (Aliso Viejo, Calif.; GT Continental Factory Racing) has proven to be one to watch after a podium this year at the UCI Mountain Bike World Cups and racing to times that would put him in the top finishers of the Elite Men's race. Evan Medcalf (Evolve Racing; Albuquerque, N.M.) is another one to watch after his seeding time, also would have put him in the top 5 of the Elite Men's race. Medcalf crossed the line four seconds ahead of Nathan Kitchen (Bakersfield, Calif; KHS Pro MTB), confirming their spots on the podium. Pinkerton was the last to drop and flew to a time of 2:06.35, taking his fourth junior title in a row.
In the Elite Women's event, Anna Newkirk (Riehen, Switzerland; Beyond Racing) made the trek over from Europe for the chance to win her first Elite National Championship. After going fastest in seeding, she set her sights on the Stars and Stripes.
Reigning National Champion Kailey Skelton (Rancho Santa Margarita, Calif.; KHS Factory Racing) came down with a time of 2:29.45 to take the fastest time of the day before Newkirk dropped. Newkirk made her way down the hill with a time of 2:25.34, riding four seconds faster than Skelton. Newkirk's Beyond Racing teammate, Abby Hogie (Heidelberg, Germany; Beyond Racing), would take the third-place spot in the Elite field.
In the Junior Women's 17-18 race, the ladies were flying, with comparable times to the Elite Women. Even though she crashed in her seeding run on Saturday, Riley Miller (East Burke, Vt.; Killington Mountain School) was one to watch. She put down an incredible ride, and most thought she had won. Kale Cushman (Old Town, Maine, Slipping Gears Cycling) crossed the line beating Miller by six-hundredths of a second. Cushman doubled down following her Elite Women's Dual Slalom win on Friday. Taylor Ostgaard (Selah, Wash.; Transition Factory Racing) took the bronze.
Amateur Downhill Finals
Men's Junior 15-16 race was on par with the 17-18 Juniors. Asa Vermette (Durango, Colo.; Frameworks Racing) rode to a 2:07.71 putting him top-10 in the elite class. Ryder Lawrence (Menifee, Calif.; Intense Cycles) slid into second with a 2:13.28, and Cash Shaleen (Acton, Calif.; Commencal, DVO Suspension, Fasthouse Bike) finished third.
Ellis Tahi Kinikini (Salt Lake City, Utah; Racekraft) went on to win the Men's Junior 11-12 with Connor Knipscheer (Monster / Commencal / 100% / ODI) taking the National Championship title in the next age group up, Men's Junior 13-14.
Aleutian Hatfield (Marquette, Mich.; Quick Stop Bike Shop) won the Men's 19-24 with a 2:27.57, and Josh Toth (Hickory, N.C.) won the 25-29 class riding to a time of 2:23.60
In the Master's Men's categories, Chase Spears (League City, Tex.), Micah van Horn (Harriman, Tenn.), Daniel Ennis (Brevard, N.C.), Petr Hanak (Winter Park, Colo; Elevated Roofs), and Kevin Liebig (Havre de Grace, Md.; GT Bikes/ Racers Edge) all won their respective categories ages 30-54. Hanak went three for three this weekend winning Dual Slalom, Enduro, and Downhill.
For the Master's Women, Amanda Domingus (Pittfield, Vt.; Chaingang Racing) won 30-39, and Laura Slavin (Vernon, N.J.; Yeti Cycles) won the 40-49 category.
Aletha Ostgaard (Selah, Wash.; Transition Factory Racing) dominated the Women's field, winning the 15-16 class with a 2:26.60, which would have put her second in the Elite Women's race, making her one of the fastest women on the mountain.
Visit USACycling.org for more information on the athletes, events, and membership programs, and follow @USACycling across all channels for the latest on Team USA.
For more information, contact Angelina Palermo at apalermo@usacycling.org.
ABOUT USA CYCLING (usacycling.org)
USA Cycling is the national governing body for the sport of cycling and oversees the disciplines of road, track, mountain bike, cyclocross, and BMX. USA Cycling's mission is to grow participation and engagement with the sport of bicycle racing and achieve sustained international success across all cycling disciplines. USA Cycling supports cyclists of all levels and abilities, from those just beginning in the sport to international caliber athletes. The organization identifies, develops, and selects cyclists to represent the United States in international competition through the support of youth and interscholastic programs, amateur and grassroots bike racing events, athlete development programs, and operational support for cycling clubs, racing teams, and event organizers. USA Cycling has a membership of 80,000, sanctions over 2,500 events annually, and is a member of the Union Cycliste Internationale (UCI) and United States Olympic & Paralympic Committee (USOPC).