haku Named Title Sponsor of 2024 and 2025 Running USA Industry Conferences
June 6, 2023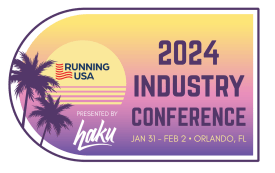 June 6, 2023/ENDURANCE SPORTSWIRE/ – Running USA is pleased to announce that haku, an industry-leading technology platform enabling event organizers to better plan, manage, promote and sellout events, will be the title sponsor of the Running USA Industry Conference for the next two years, including the 2024 20th anniversary event in Orlando.
The Running USA Industry Conference presented by haku is the leading education and networking event for running professionals in North America, welcoming hundreds of event directors, vendors, charities, consumer brands and supporting services to a three-day networking and education experience each year.
Founded in 2013, haku has been a longtime presence at the Industry Conference and is known for hosting epic experiences for clients in conjunction with the Running USA event. Drawing inspiration from the founder's Peruvian heritage, the name haku originates from Quechua, the language spoken by the Incas in Peru, and means "Go Do!" The Miami-based company is all about action, social engagement and getting things done in the most efficient and seamless way.
"Everything we do at haku is centered around empowering industry professionals to reach new heights and fostering a vibrant community of growth and success. Partnering with Running USA emphasizes that commitment," said Jackie Levi, Co-Founder and Chief Strategy Officer at haku.
"We are excited to partner with Running USA to help advance the industry and create remarkable experiences and content together."
"We are excited to build upon our strong existing relationship with haku as title sponsor of the 2024 and 2025 Running USA Industry Conferences," said Christine Bowen, Chief Operating Officer of Running USA. "The haku team does an exceptional job of creating content and technology that grasps the needs of the industry today, and we're thrilled they'll be our partner in creating an epic 20th anniversary conference in Orlando."
The 2024 conference will be held Jan. 31 to Feb. 2, 2024 at Disney's Coronado Springs Resort. The Wednesday to Friday event allows the conference to be held immediately prior to the U.S. Olympic Marathon Trials on Feb. 3 in downtown Orlando.
"We're thrilled to be able to again hold the Industry Conference adjacent to an Olympic Trials race, like we did in 2016 in Los Angeles and in 2012 in Houston. These have been some of our most popular events ever, and we expect haku will help us raise the bar even higher in 2024," Bowen said.
Register today for the 2024 Running USA Industry Conference presented by haku.
About haku
haku is an unparalleled technology partner that forward-thinking organizations are working with to create powerful events and surpass their goals. Through a robust all-in-one platform, world-class organizations can better plan and promote events, track progress, engage their participants, and move their events and businesses forward – all with haku's state-of-the-art technology ecosystem and unmatched partnership. haku is trusted by organizations such as the Bank of America Chicago Marathon, Marine Corps Marathon Organization, J&A Racing, Houston Marathon, Atlanta Track Club, Philadelphia Eagles, the McCourt Foundation, Release Recovery, Dress for Success, Mercedes Benz Corporate Run, and many more.
To learn more about haku, please visit www.hakusports.com
About the Running USA Industry Conference
Since its origins as a small gathering of Running USA's founders in Southern California in 2004, the Running USA Industry Conference presented by haku has grown to becoming the best-attended, most esteemed gathering of running industry professionals from around the USA and the world. Now moving locations each year, the conference has been held in Los Angeles, San Diego, Savannah, Houston, San Antonio, Denver, New Orleans, Puerto Rico, Las Vegas and returns to Orlando for the 2024 event. Read a statement from Running USA on the 2024 location.
About Running USA
Running USA is a tax-exempt, not-for-profit organization devoted to improving the status and experience of distance running and racing in the United States through collective marketing and promotions, information and communications within the industry and to the national media, services to events and industry members, and the development of American world class stars. It seeks the advancement of the sport and the provision of value to each of its members' events and businesses. For more information, visit RunningUSA.org