GSI Outdoors Expands Partnership with Nonprofit Organization SeaTrees
April 22, 2022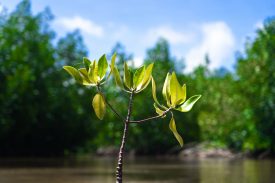 GSI will support the planting of mangrove trees to help reduce carbon emissions
Spokane, Wash. — April 22, 2022/OUTDOOR SPORTSWIRE/ – GSI Outdoors today announced an expanded donation-based collaboration with the nonprofit organization SeaTrees, an ocean-positive project from the non-profit charity Sustainable Surf. GSI Outdoors has a goal to actively counterbalance its carbon emissions, and will donate one mangrove tree for every purchase over $25 made on their website. Starting today, the company is also encouraging its customers to bolster donations by adding one, five or 10 additional trees to their cart at checkout (at $1.00 per tree).
"We are excited about the opportunity to continue working with SeaTrees during Earth Month, and our plan is to work with them well into the future," said Kelly Scott, co-founder of GSI Outdoors. "Planting trees to help reduce carbon dioxide in the environment is near and dear to our hearts and we can't think of a better organization to help accomplish this goal."
SeaTrees is dedicated to working with coastal communities to reforest the ocean by planting and protecting blue-carbon coastal ecosystems, the most effective way to suck carbon out of the atmosphere. The organization connects individual donors and like-minded brands with boots-on-the-ground support and action.
GSI Outdoors will specifically focus on planting mangroves in Biak Island, Indonesia. Mangroves create critical habitats for threatened species and help to protect Biak Island from storm-surges and sea-level rise. Mangroves work by sequestering carbon five times more efficiently than tropical forests. For every mangrove planted, SeaTrees provides sustainable employment for two villages on Biak Island.
Launched in early April, GSI outdoors has already donated 6,000 trees and counting to the organization. For the last 37 years, GSI Outdoors has been committed to responsible manufacturing, stewardship of the environment, and design rooted in innovation, efficiency, and durability. The brand, which makes products designed to last generations, is excited to partner with a like minded organization.
For more information on GSI, visit its website or follow on Instagram or Facebook. To learn more about SeaTrees give them or follow on Instagram or visit their website.
ABOUT GSI OUTDOORS
Always a small, family-owned company, GSI Outdoors makes hydration, cookware and dining products that bring the comfort of home cooking practices to the great outdoors. Since 1985, GSI Outdoors has produced innovative dining gear for use at the campsite, bivy, on the trail, and everywhere in between.
ABOUT SEATREES
Founded by non-profit Sustainable Surf, SeaTrees is an organization that restores, replants and protects coastal ecosystems around the world to help reverse climate change. By offering like-minded brands a way to directly fund projects that restore blue carbon coastal ecosystems, they are leveraging the power of business to accelerate change, and creating jobs and livelihoods that maintain healthy ecosystems for the future.
###