Groundbreaking SuperStarch Energy Now Available in Pre-Mixed Pouches
April 1, 2021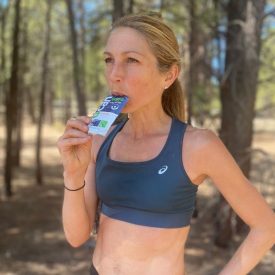 UCAN Edge represents a quantum leap in sports nutrition
(Woodbridge, CT) The UCAN Company is launching an extraordinary innovation in sports fueling called UCAN Edge. It is the first and only SuperStarch-based energy product in a portable pouch. UCAN Edge delivers peak athletic performance without compromising your health and metabolic fitness, all in a convenient format.
"I've used Edge between my warmup and starting my workout, and it has been a great, portable way to quickly get some slow-burning carbohydrate fuel in during training", says Sara Hall, the 2nd fastest U.S. women's marathoner in history. "Edge sits really well in my stomach. I don't even notice it's there besides the extra energy."
Elite and recreational athletes alike have been taking their performances to the next level by fueling with UCAN, including Hall, Olympic triathlete Katie Zaferes, CrossFit star Scott Panchik, 4x Olympian Meb Keflezighi, top American pro triathlete Tim O'Donnell, Olympic water polo player Maggie Steffens, and hundreds of pro and college teams.
SuperStarch, the unique underlying ingredient in UCAN's products, has been available in Energy Powder format since the company's inception and in several other formats like Energy Bars, but it has never been sold in a pre-mixed, ready-to-consume pouch. SuperStarch delivers long-lasting energy without spiking blood sugar levels and digests easily without causing GI distress that many athletes experience with sugar-based fuels.
The innovation behind UCAN Edge came as coaches, trainers and sports dietitians in the field expressed a need to the company to create a portable, convenient format to more easily deliver steady energy to their athletes in various settings.
"Our company's obsession with using only the highest quality ingredients made formulation challenging, but we are proud and excited to finally bring this groundbreaking innovation to the active world making UCAN more available to anyone working out, participating in endurance activities and just looking to carry UCAN with them wherever they need great, steady energy," says Peter Kaufman, co-founder and VP of Innovation for The UCAN Company.
Customer feedback was sought in multiple rounds of taste and use testing, and UCAN was fortunate to have so many passionate fans to test and provide input into the development of the ideal formula, including pro athletes like Katie Zaferes, who pressure-tested Edge while training for the 2021 Olympic Games.
"I've been really enjoying fueling with UCAN Edge," says Zaferes, 2016 Olympian and medal favorite for 2021 in triathlon. "I love how easy it is to transport and take in when I am on the go — which is nearly always. It gives me sustained energy in every discipline, which makes it the perfect fueling tool for me."
World-renowned run coach Greg McMillan was also part of the UCAN Edge trial. "For years, I've encouraged athletes to carry their own fuel during training and racing so they have full control of what they need and when they need it. With UCAN Edge, it's now even easier for athletes to carry my preferred fuel – UCAN SuperStarch. This is a game-changer for fueling, and I can't wait for all my athletes to finally feel what proper fueling is."
To learn more and to order, visit https://ucan.co/product/orange-edge/
About UCAN:  
Based in the U.S., UCAN is a company obsessed with the science of health and performance. UCAN enables athletes to gain confidence in their inherent abilities to surpass their performance by unlocking their body's full potential through smart nutrition. UCAN products utilize SuperStarch®, a patented, slow-releasing complex carbohydrate that delivers steady, long-lasting energy without triggering an insulin response. Originally created for a child with a rare metabolic disorder, UCAN Energy Pouches, Powders, Energy Mix and Energy Bars are trusted by over 450 pro and college teams, Olympic marathoners, elite triathletes, cyclists, group fitness coaches, thought leaders in health and performance, boxers, and recreational athletes for foundational nutrition to unlock performance. Learn more at ucan.co, and get the latest news in the UCAN world by following @GenUCAN on Facebook, Instagram and Twitter. UCAN nutrition products are currently available in powder, pre-mixed, energy mix, and bar formats, in a variety of flavors, at 350+ specialty run, bike and tri stores around the country, Life Time Fitness gyms, and can be purchased online at ucan.co or on Amazon.