Grenada County to host the 2023 USA Triathlon Mississippi State Championships
October 31, 2022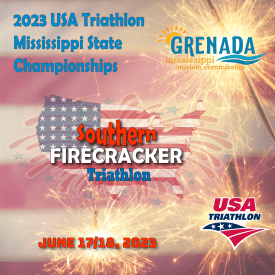 RSAA Inc., in partnership with Grenada Tourism Commission, announces today it has a secured an agreement with the USA Triathlon to host the 2023 Mississippi State Championships.
November 01, 2022, Grenada, MS /ENDURANCE SPORTSWIRE/ Rock Star All Access announces today in partnership with Grenada Tourism Commission that Grenada County will host the 2023 USA Triathlon Mississippi State Championships.
Grenada Lake offers some of the Southeast's best outdoor resources and activities for the entire family. Grenada Lake is nationally recognized as the best Crappie Fishing in the US. The picturesque Dogwoods Golf Course, premier outdoor camping and the most beautiful countryside in Mississippi round out why Grenada is beautiful place to stay and play. Grenada is conveniently located halfway between Memphis, TN and Jackson, MS on I-55.
Grenada Tourism Commission Executive Director – Gary Worsham commented, "Grenada Tourism is so proud to be presenting sponsor for the 2023 USA Triathlon Mississippi State Championship. We are so thankful to Thomas Walls for presenting the opportunity to bring the Southern Firecracker Triathlon to us a couple of years ago. Thanks to his hard work and incredible community support, we have had two successful events in the books and now have the opportunity to go to the next level. The USAT State Championship event will be a source of pride for all Grenadians and an opportunity for us to roll out the red carpet and show everyone our local hospitality".
The 2023 USA Triathlon Mississippi State Championships will be held alongside the state's only 70.3 distance triathlon, the Southern Firecracker. The two-day event will be held on Father's Day weekend with the State Championship races on Saturday June 17 and the Southern Firecracker Triathlon moving to Sunday the 18th. The event venue is spread across the North Abutment Phase II campground creating a unique platform and offers both participants and volunteers a unique way to enjoy the Father's Day weekend.
Race Director – Thomas Walls commented on the multi day addition, "Triathlon is already a family driven sport and when we combine the sport with the unique lake experience Grenada offers, we find many athletes and volunteers returning here as their Father's Day destination. By combining the Championship Races with the 70.3 distance race we've opened the door for both father and son/daughter to participate creating a very special weekend experience."
About RSAA Inc.
RSAA, known for its organization of worldwide concert tours has quickly become a recognized leader in the development and management of endurance sporting events. Current events organized by RSAA include Tour the Trace, a 444-mile bike ride from Nashville, TN to Natchez, MS along the Natchez Trace Parkway, and the Renaissance Marathon Festival held in Ridgeland, MS.
About USA Triathlon
USA Triathlon serves as the National Governing Body for triathlon, as well as duathlon, aquathlon, aquabike, winter triathlon, off-road triathlon and paratriathlon in the United States. Founded in 1982, USA Triathlon sanctions more than 4,300 events and connects with more than 400,000 members each year, making it the largest multisport organization in the world. In addition to its work at the grassroots level with athletes, coaches, and race directors — as well as the USA Triathlon Foundation — USA Triathlon provides leadership and support to elite athletes competing at international events, including World Triathlon World Championships, Pan American Games and the Olympic and Paralympic Games. USA Triathlon is a proud member of World Triathlon and the United States Olympic & Paralympic Committee (USOPC).
For more information contact Race Director – Thomas Walls at 901-472-4630 or visit https://southernfirecracker.com/.