Great registration kickoff for Inaugural War Eagle Run Fest
September 29, 2021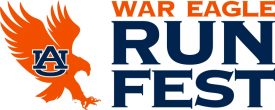 Race attracts runners from 20 states and Canada in opening week
Auburn, AL.- Auburn fans and runners from across the country jumped on board during the opening of registration for the War Eagle Run Fest. During the first week open, the race saw registrations from 20 states and Canada.
The inaugural race will take place on February 20, 2022. Runners will be treated to scenic views of the city and AU's campus before they #FlyDowntheField to the finish line in Jordan-Hare Stadium on the 50-yard line. It is the second FRESHJUNKIE Racing (FJR) event to end in the stadium of a Southeastern Conference (SEC) school.
"We look forward to hosting the War Eagle Run Fest in February along with the campus, city and Auburn-Opelika Tourism," said Auburn Director of Athletics, Allen Greene. "Jordan-Hare Stadium will be a perfect place to finish the races and the east Campus Green will be a great spot for all of the participants and their friends and family to celebrate afterward."
After the race, participants can grab a commemorative medal and join us outside the stadium for the War Eagle Run Fest. This post-race tailgate is filled with food and music, and open to all.
"Auburn-Opelika Tourism is thrilled to partner with the city of Auburn and Auburn University to offer a new half marathon to our community's residents and visitors," said John Wild, Auburn-Opelika Tourism President. "The beautiful college town and campus is the perfect location to celebrate fitness and wellness, and we look forward to sharing the unique spirit of Auburn with fans both old and new."
Athletes and running enthusiasts can sign-up or find out more about the races at wareaglerunfest.com.
For more information about other upcoming FJR events please click here.
###
ABOUT FRESHJUNKIE RACING: FRESHJUNKIE Racing (FJR) is an endurance event production company specializing in road running races and triathlons.  Currently, FJR produces 18 events annually: 12 in Louisiana, 1 in Mississippi, 4 in Alabama and 1 in Florida.  While 14 of the 18 events are company owned events, FJR offers event services for organizations looking to outsource the production of their running race or triathlon.  FRESHJUNKIE Racing prides itself on attending to the small details.  Because they matter.  We are a production company made up of athletes that produce events for athletes. We know what it means to plan, train for and participate in events and we know what the small details are.  From initial planning, permitting, and overall event operations to graphic design, marketing and video production, we are a complete shop.  We are exhaustive in our preparation and comprehensive in our execution so that athletes can participate in experiential events they will remember for years to come.