Grayson Murphy and Dan Curts earn USATF Mountain Running Championship Titles
May 1, 2023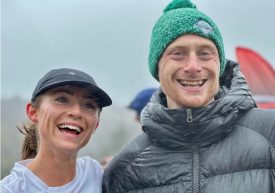 Team USA – Mountain Classic - eight athletes earn automatic spots for Worlds in Austria
/ENDURANCE SPORTSWIRE/ – It was a back-to-back weekend of racing at Mt. Sunapee with USATF Championship titles at stake along with spots on the USATF Mountain Running Teams – Vertical and Classic – heading to the World Mountain and Trail Running Championships in Austria in June.
On Sunday, April 30, the USATF Mountain Running Championships were held and Saturday's Vertical Mountain Champion, Grayson Murphy, prevailed again to take the win and Dan Curts, who was third yesterday (2nd for USATF) claimed his first USATF Mountain Running title. The Sunapee Scramble hosted the championships at Mt. Sunapee Resort located in Newbury, New Hampshire co-directed by Tom Hooper and Paul Kirsch, Six03 Endurance Races.
The nine-mile two-loop course (4.5 miles per loop) started at the base of the ski resort on service roads for the first three miles, before reaching the summit and heading down an open field ski run and through forested glades on extremely technical footing complete with tree roots, moss, and churned up mud. The halfway point in the race was at approximately 4 and a half miles at the base of the ski area. In total, participants gained 3000 feet of climbing and an equal amount of descent.
It was cool, gray and rainy for the late morning starts — men went off first at 11:00 followed by the women at 11:30 — and the weather did not let up. Even though the skies never cleared, and the rain never stopped, the participants seemed to enjoy the challenge of the weather as well as the variety of terrain.
Murphy posted a time of 1:08:56 to best her nearest competitor, Allie McLaughlin by nearly three minutes. In third was Rachel Tomajczyk timed in 1:16:35. Hot on her heels, Kasie Enman finished five seconds later. All four earned spots to represent Team USA at the World Mountain and Trail Running Championships in Austria this June. Both Murphy and Tomajczyk raced yesterday's event, the USATF Vertical Mountain Running Championships, giving them the opportunity to race on two teams at worlds. McLaughlin can also double at Worlds having an auto spot from her World Championships win at the Vertical Mountain Race in Thailand this past November.
Doubling is also an option for Curts and Edie Owens. Both raced yesterday to earn spots on the Vertical Mountain Team and with the win (Curts in 1:01:04) and fourth-place US finish (Owens in 1:03:27) respectively today, the pair can also race the Classic Mountain at Worlds.
Joining Curts and Owens, will be second U.S. finisher Morgan Elliott who posted a time of 1:02:51 and third place U.S. finisher Liam Meirow timed in 1:03:16. Team Canada's Alexandre Ricard and Remi Leroux split the US finishers with a second and fifth place result. Ricard, who won the Vertical race yesterday, ran a time of 1:02:43 and Leroux finished with a time of 1:03:26.
More than 200 runners crossed the finish line and if you missed the action, you can enjoy the Livestream playback here. Complete results are posted here. Review the USATF Mountain and Trail Running Team selection criteria here.
USATF Mountain Running Championships Results
USATF Top Ten Women
1 Grayson Murphy, 27, Flagstaff, AZ, 1:08:56
2 Allie McLaughlin, 32, Colorado Springs, CO, 1:11:53
3 Rachel Tomajczyk, 30, Williams, AZ, 1:16:35
4 Kasie Enman, 43, Huntington, VT, 1:16:40
5 Megan Lacy, 29, Boise, ID, 1:17:05
6 Colleen Chase, 27, Princeton, MA, 1:19:21
7 Katie O'Regan, 38, Lititz, PA, 1:21:42
8 Corey Dowe, 29, North Conway, NH, 1:22:37
9 Kylah Ricks, 20, Colorado Springs, CO, 1:22:58
10 Grace Morgan, 27, Boulder, CO, 1:23:28
USATF Top Ten Men
1 Daniel Curts, 27, Norwich, VT, 1:01:04
2 Morgan Elliott, 31, Salida, CO, 1:02:51
3 Liam Meirow, 27, Portland, OR, 1:03:16
4 Edward Owens, 29, San Francisco, CA, 1:03:27
5 Max King, 43, Bend, OR, 1:03:50
6 Casey Campbell, 30, Bend, OR, 1:03:52
7 Garrett Corcoran, 27, Salt Lake City, UT, 1:04:25
8 Mason Coppi, 25, Liverpool, NY, 1:04:47
9 Cole Campbell, 23, Gunnison, CO, 1:05:02
10 Aesop Brown 28, Colorado Springs, CO, 1:06:16
USATF Age Group Winners
Junior (U20) – William Hogue, 14, Bronxville, NY, 1:27:23
40-44 – Max King, 43, Bend, OR, 1:03:50 and Kasie Enman, 43, Huntington, VT, 1:16:40
45-49 – Clayton Bouchard, 49, Lykens, PA, 1:24:17 and Leslie O'Dell, 47, Albany, NH, 1:28:10
50-54 – Chris Grauch, 50, Nederland, CO, 1:18:52 and Dawn Roberts, 51, W Springfield, MA, 1:47:09
55-59 – Bruce Christensen, 55, Bolton, CT, 1:53:02 and Karen Encarnacion, 57, Attleboro, MA, 1:55:57
60-64 – Richard Fargo, 64, Chatham, NH, 1:39:49 and Emer O'Donaghue, 60, Maynard, MA, 2:34:52
65-69 – Paul Bazanchuk, 68, Center Conway, NH, 1:43:56 and Karen Gross, 66, Augusta ME, 2:44:19
70-74 – Bob Dunfey, 71, Portland, ME, 2:16:51 and Marcy Schwam, 70 Marblehead, MA, 2:35:37
75-79 – Paul Grant, 75, Carver, MA, 2:15:36
####