Grand Prize Winner Named in 'Impossible Obstacle Course' Designed By Olympian Nick Symmonds
March 22, 2023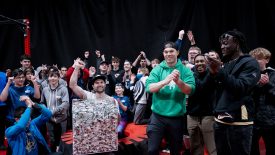 Competitor Ben Wales has won $25,000 for being the first to complete what might be the toughest and most strategically designed obstacle course in the country.
Contact: press@nicksymmonds.com
Eugene, Oregon – March 22, 2023 /OUTDOOR SPORTSWIRE/ Nick Symmonds, 2x Olympian in Track and Field, was on a mission to find the strongest, most well-rounded athlete in the world – and reward them with $25,000 for being the first to complete his Impossible Obstacle Course. Competitor Ben Wales of Minnesota has claimed the title, and the $25,000 grand prize money. You can watch the winning episode, as well as the rest of the series on Nick Symmonds' YouTube channel.
"It was a surreal experience with lots of positive energy, excitement, and drama," said Ben Wales, winner of the Impossible Obstacle Course and the first athlete to complete the course. "The Impossible Obstacle Course was an amazing opportunity to showcase my skills, and Nick was a very gracious host. I fully support his mission of encouraging people to be more active and have fun with their fitness journeys!"
Wales is the owner of The Wilderness Fitness and Coworking, a health and wellness focused workspace in Minneapolis, Minnesota. He adds that he has the unique opportunity to train on obstacle courses on a daily basis, which he feels gave him an edge over the competition.
"Ben was willing to take a risk, bet on himself and as a result, he received the ultimate reward," said Impossible Obstacle Course creator and host, Nick Symmonds. "The competition was chaotic but perfect. The turnout for day one of competition was far greater than I was expecting. We had nearly 100 competitors, which made for two very compelling, viral videos of impressive competition."
And while the grand prize is claimed, Symmonds isn't done with his Impossible Obstacle Course just yet. On March 25, he will host at least a dozen crossfitters and ninjas from across the country, including The Buttery Bros and Island Ninja, who will compete for $10,000. Episode 4 of the series will debut March 30 on YouTube.
Symmonds spent three months and over $100,000 building the Impossible Obstacle Course, and produced a four-part YouTube Series to document the athlete's experience. For additional information or questions about the competition, email press@nicksymmonds.com.
ABOUT NICK SYMMONDS
Nick Symmonds is a 2x Olympian in the sport of Track & Field and a YouTuber with over 1,000,000 subscribers. He creates content that encourages people to get out, be active, and find a love for fitness. Nick is also a mountain climber, avid fly fisherman, and licensed pilot. He lives in the Pacific Northwest with his wife and dog. For more info download the Nick Symmonds App for free at NickSymmondsFitApp.com, and subscribe to Nick's YouTube channel @NickSymmonds800.
# # #