Gourdy's Pumpkin Run Partners with Girls On The Run For Third Year
March 18, 2022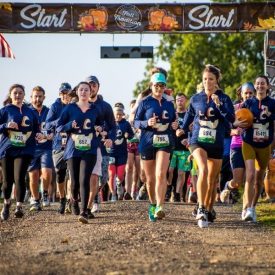 The fall 5K launches in-person events along with the globally available Anywhere option
NEW YORK /ENDURANCE SPORTSWIRE/ – The fall-favorite race has again teamed up with Girls on the Run for a third year in a row, after raising a combined total of over $400,000 for the National Charity Partner in the previous two years. Gourdy's Pumpkin Run will continue donating $1 per registration to Girls on the Run, as well as offering fundraising and donation options to help reach their fundraising goals.
"Girls on the Run is thrilled to once again partner with Gourdy's Pumpkin Run for their 2022 season. Starting with a strong alignment of missions, our partnership has blossomed to include a dedicated and passionate community of supporters. For the last two years, the inspiration and innovation from in-person and Anywhere events have positively impacted our entire organization. Because of Gourdy's, we have been able to enhance the lives of more girls and prepare them for promising futures. Fall remains our favorite season and we are so excited to work with Gourdy's Pumpkin Run for the third year!" said Liz Wian, VP Partnerships and Development at Girls on the Run International.
Excited for the eleventh year in action, and the third with Girls on the Run, Sour Fish Events Co-Founder, Courtney Young, had the following comments, "We are thrilled to be back for our eleventh season! It is truly amazing to be able to connect with our participants on a daily basis, and see how much this event has impacted each of them over the last decade. Being able to partner with Girls on the Run is the cherry on top that makes the fall season so rewarding. We cannot wait to impact and connect with local councils at each of our events, and continue to build upon this successful partnership for the third year in a row."
The popular fall race has officially launched its 2022 schedule, with multiple in-person events on the calendar for its eleventh season running. In addition, the award-winning virtual Anywhere option has also made its return, now in its seventh year. Registration for Gourdy's Pumpkin Run launches this Friday, March 18 at 10 AM ET for both in-person events and the Anywhere option. Additionally, those interested will be able to sign up for volunteer opportunities, where they can earn a free race registration or have a donation made to a charity of their choice.
###
About Girls on the Run
Based in Charlotte, N.C., Girls on the Run is a nonprofit organization with local Councils in all 50 states. Founded in 1996 with 13 girls, Girls on the Run has now served 2 million girls. Over the course of the 10-week program, girls in 3rd-8th grade develop essential skills to help them navigate their worlds and establish a lifetime appreciation for health and fitness. The program culminates with girls positively impacting their communities through a service project and being physically and emotionally prepared to complete a celebratory 5K event. Girls on the Run is included as a top research-based program in a Social-Emotional Learning Guide developed by researchers at Harvard University and has been recognized by the National Afterschool Association (NAA) as one of the most influential after-school programs.
About Gourdy's Pumpkin Run
Gourdy's Pumpkin Run is a 5K run that has taken place on farms, and in many major cities throughout the Midwest, East Coast, and South for the past 10 years. Runners receive a cup of apple cider and a pumpkin at the finish line, where they celebrate the best of the fall season with their friends and family. Gourdy's Pumpkin Run also has an Anywhere option, wherein participants are able to complete the 5K and enjoy fall festivities within the comfort of their own neighborhood, on their own time. For more information, visit www.gourdyspumpkinrun.com beginning Friday March 18th, 2022.
Press Contact: Zoe Morey, 574-229-3352, zoe@sourfishevents.com