GO Sleeves Adaptive "Trail Blader" Zachary Friedley to Speak at The Run Show USA
January 6, 2022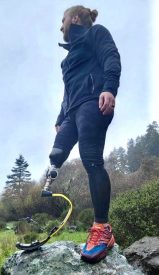 Partnership will focus on forwarding both the GO Sleeve mission to keep every body moving and Friedley's broader mission to help adaptive athletes enjoy more access to trail running events.
San Jose, CA (January 6, 2022) /ENDURANCE SPORTSWIRE/ – GO Sleeves, the company that introduced the world's first and only compression sleeve with built-in kinesiology strips, announced today the signing of adaptive trail running athlete Zachary Friedley to an ongoing partnership contract.
"Zachary is an amazing addition to the GO Sleeves family," said GO Sleeves co-founder Darren Lancaster. "His story is so unique and mindblowing. We're thrilled and honored to support Zachary's personal goal of competing in at least 8 elite trail running events in 2022 as he raises awareness around improving support for adaptive athletes in competitive trail running."
As a congenital amputee born missing most of his right leg above the knee, Zachary Friedley grew up as an athletic kid who gravitated towards competitive sports – despite the perceived limitations. He always wanted to be the best and always focused on the win. At age 22 he received his first "blade," a new type of prosthesis that introduced him to running. Zachary then competed at several Para-level track meets between 2008-2014, attempting to make the Paralympic team, but never found success. In his frustration of not being able to make the team and not being able to win, he assumed his running goals were over.
In 2015, Zachary met a somatic bodywork shaman who Zachary claims "changed the way I physically and energetically inhabited my body – for the first time in my life I felt like I could really MOVE with ease, without pain, and without inhibition. I started running on beaches, trails, streets, everywhere…and broke all my prosthetics in the process. I found out what it really meant to not have the ability to physically move. As my past experiences and my future goals came into focus, I finally realized that movement is not about winning. It is about living."
Now, Zachary is running ultra races, but instead of medals and wins, he's running for himself. Zachary started a non-profit organization called Mendocino Movement Project to support people of all abilities, limbs, and levels.
"I use GO Sleeves to fight fatigue, allowing me to run longer and enjoy the experience more. I also wear them to recover faster, so I can get back out there sooner," says Friedley. "Being a part of the GO Sleeves mission to keep every body moving speaks to me. I'm excited to partner with GO Sleeves to help adaptive athletes get more awareness and support for trail running events."
Zachary will be speaking and the GO Sleeves team will be showcasing their current and new products at The Run Show USA consumer event in Boston on January 29-30. To sign up for free tickets, visit GOSleeves.com/RUNSHOW
Unlike other compression products on the market, GO Sleeves products incorporate the same kinesiology taping technology used by doctors, chiropractors and physical therapists to support key joints, ligaments, and tendons. The built-in silicone strips trigger the body's natural pain reduction capabilities and increase recuperating blood flow and lymphatic drainage. The 4-way stretch outer compression sleeve is super-lightweight, breathable, washable, and reusable. Athletes get all the benefits of a physical therapist's tape session without the recurring cost of an office visit and/or tape applications.
ABOUT GO SLEEVES
Founded in 2019 by two fitness-minded entrepreneurs, GO Sleeves is a health & fitness brand reimagining the way athletes train, recover, and reduce their vulnerability to injury. By bringing the proven benefits of kinesiology technology to muscle-targeting compression sleeves and other products, GO Sleeves makes staying active and achieving peak performance possible without expensive ongoing treatments.
###