Go Fast and Far with the new APEX 2 Pro Chamonix Edition from COROS
August 17, 2023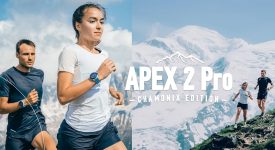 Reach the Summit with the new COROS APEX 2 Pro Chamonix Edition
IRVINE, California / August 17th, 2023/ENDURANCE SPORTSWIRE/ – COROS Wearables Inc., makers of GPS sports wearables and training software for performance and adventure, today announced the launch of the APEX 2 Pro Chamonix Edition, a 3000-unit limited edition colourway that recognises one of the greatest places on earth to train and trail-blaze.
Known as the spiritual home of trail running and gateway to the epic terrain of Mont Blanc, Chamonix is also home to the world-renowned UTMB® Race, where COROS Pro Athlete Kilian Jornet has taken multiple wins. In addition, COROS users have now clocked in over 1 million meters of vertical ascent in Chamonix.
COROS will also be attending UTMB 2023 in Chamonix, where its Pro Athletes, including Kilian Jornet, Petter Engdahl, Ludovic Pommeret, Lucy Bartholomew, Jon Albon, Sage Canaday and many more, will be racing. See here for the full roster of COROS Pro Athletes racing at UTMB. In addition, COROS will have a customer-facing booth at UTMB for the entirety of the event, hosting live Q&A sessions with Emelie Forsberg, Tim Tollefson, Antonio Martinez, and more!
ALPINE INSPIRED COLORS
Far from the green that dominates the lower slopes, the blue and grey colours echo Mont Blanc's high elevations where rock and glaciers meet the piercing sky.
REACH EVERY SUMMIT
Packed full of COROS' latest generation technology, innovative features, and legendary battery life, the APEX 2 Pro Chamonix Edition is designed to help users reach every summit.
COROS' global offline mapping, checkpoints, and custom route planning users can confidently access critical navigation information in the most remote locations. The digital dial on the APEX 2 Pro Chamonix Edition makes it easy to zoom in and out of the map, while the touchscreen allows for the dragging of the map with just a finger.
NO MATTER WHAT, YOU'LL BE PREPARED
With the beauty of the outdoors also comes risk: stormy weather, altitude sickness, darkness, and dehydration – all potential realities of trekking through the mountains. The APEX 2 Pro Chamonix Edition can notify users so they can stay safe and informed while powering to the summit.
The APEX 2 Pro Chamonix Edition is available to order today from www.coros.com and will retail at 449 USD, 449 GBP, and 499 EUR. Orders can also be placed with authorised retailers, distributors, and Amazon®.
ABOUT COROS
COROS is a performance sports technology company that helps athletes train to be their best.
For COROS, it's all about the outdoors, mountains, and a passionate, active lifestyle. We combine high-grade hardware with innovative technology to provide endurance athletes with the gear they rely on in the world's most extreme environments. Advanced technology with an efficient and intuitive user experience is at our core. When you use a COROS product, you know you are getting a tool that has been designed, tested, and perfected for the athlete by the athlete. COROS users have set World Records and been to the highest point on earth, pushing our products to the extremes.
At COROS, creation and innovation are never-ending. Our customers, the athletes, make COROS – be a part of our community @COROSGlobal on Facebook, Instagram, LinkedIn and TikTok. #ExplorePerfection
– Ends –