GiveSignup l RunSignup Announces RaceDay Scoring for Duration-Based Lap Events
November 30, 2021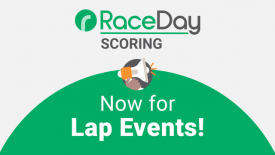 Time-Based, Cumulative Mileage Events Now Supported
November 30, 2021 – Moorestown, NJ /ENDURANCE SPORTSWIRE/ – GiveSignup | RunSignup announces the launch of RaceDay Scoring for duration-based lap events. RaceDay Scoring, the industry's next generation scoring software, now supports time duration-based events where mileage cumulated may vary by individual finisher. RaceDay Scoring is the planned replacement for The Race Director, the scoring software currently used by most timers. This latest release offers specialized scoring configurations to fully support lap distance events frequently applied at cycling, team challenge events, relays, trail events, and running and walking races.
"Timers who are familiar with The Race Director will be pleased to see that this release of RaceDay Scoring offers all capabilities they are accustomed to using along with a more sophisticated approach. Timers are able to customize their configurations to address the unique needs of duration-based lap races which are often specialized depending on the event type. I predict timers will be very pleased with this evolution in scoring," said Roger Bradshaw, Founder of The Race Director and Product Manager of RaceDay Scoring.
Examples of duration-based lap scoring are six-hour mountain bike relay events, 24-hour ultramarathons, or walk-a-thon charity events. Instead of attempting to reach a set distance, such as a 5K,  participants are completing as much as possible within a set window of time.
This new release of RaceDay Scoring applies the foundational capabilities inherent in The Race Director along with new configuration advancements. Timers are able to score time-based events with simple or complex lap scenarios (i.e. figure eights, short loops, long loops, and combination loops). RaceDay Scoring's lap-based capabilities can be applied for individuals, relays, or aggregate team scoring. In addition, Timers are able to customize the configuration for determining an individual's finish status based on minimum and maximum duration settings.
One of the important new features that improves upon The Race Director is the ability to mix scoring types from a single computer. Many events may host both a set distance and time-based options, such as a festival that offers a 25K option, a 50K option, and a 12-hour run on the same day. Previously, this would require two different computers to configure and score finishers. Now, with this release of RaceDay Scoring timers can easily score unlimited scoring types within a single race file.
RaceDay Scoring is GiveSignup | RunSignup's premier scoring software designed to meet the current and future needs of endurance race timers. Its integration with GiveSignup | RunSignup's RaceDay timer tools –  such as RaceDay Registration, RaceDay CheckIn app – provide significant race operation advantages to timers and race organizers. RaceDay Scoring supports traditional endurance events, cross country, relay and team events, and now lap events.
About GiveSignup | RunSignup
GiveSignup | RunSignup is the fundraising event platform leader delivering the art of technology to nonprofit organizations. Over 10,000 nonprofits, supporting more than 25,000 events, use our free and open platform to raise more than $1 billion, grow their events, and save time. This purpose-built platform gives nonprofits the technology needed to generate revenue and engage supporters. Our expertly crafted, open and all-in-one solution powers nonprofit revenue generation and supporter engagement with everything from ticketing and registration to donations and fundraising. No subscriptions, no plans, no monthly fees.
To find out why customers like American Cancer Society, AACR, IRIS and Semper Fi Fund use GiveSignup | RunSignup, visit www.givesignup.org.
###