Give Fitness Gifts Superpowers with Industry-Leading Customized Performance Plans for Every Type of Athlete from InsideTracker
November 15, 2021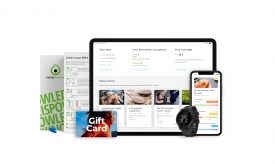 Line-up features gifts for weekend warriors, podium-seekers and everyone in between, with special holiday offers that make gift-giving easy
CAMBRIDGE, Mass.— Nov. 15, 2021/ENDURANCE SPORTSWIRE/ – Forget monogrammed race bags and embroidered socks— if you want the ultimate personalized gift for the athlete in your life, start inside. InsideTracker, the leading truly personalized performance and nutrition system, makes giving the perfect gift easy with an industry-leading line up of plans for every type of athlete, all conveniently delivered by printable gift card.
InsideTracker gives fitness trackers "superpowers" by integrating Garmin or Fitbit data with blood biometrics and DNA insights to create science-backed, mobile-delivered Action Plans of nutrition and lifestyle interventions that optimize for strength, endurance, longevity and other user-selected goals, making it the ultimate "one size fits you" gift.
All InsideTracker Action Plans feature a user-friendly, customized Impact Score that prioritizes recommendations to show the strength and effectiveness of each recommendation and is conveniently delivered via iOS or Android app for added insight, daily ProTips, motivation and accountability.
Featured gifts:
Ultimate ($589)
Perfect for the high-performer who leaves nothing on the course, in sport or in life.
Tests 43 total biomarkers, covering everything from hormonal health to inflammation markers, muscle health and recovery, liver health, stress markers and more
Add InnerAge 2.0 for $99 or the InsideTracker DNA test kit for $249, or upload existing DNA test results from 23andMe or Ancestry for $29
InnerAge 2.0 ($179)
The perfect gift for athletes who want to add years to their life and life to their years.
Tests 14 biomarkers in females and 18 in males most closely correlated to longevity
Calculate your biological age (your InnerAge) and receive actionable, science-backed methods to make sure your best days are still ahead of you
InsideTracker x Shalane Flanagan Custom Panel ($399)
Give the fit mom (or dad) in your life the gift of durability and resilience with a panel of the same biomarkers Shalane tracks to optimize her performance
Created alongside Olympic medalist and New York City Marathon champion, Shalane Flanagan, featuring the same biomarkers she tracked to recently complete the six World Marathon Major races in just seven weeks
Tests more than 20 key biomarkers that are critical to endurance and recovery (Note, biomarkers vary for men vs women)
InsideTracker is offering Black Friday deals on plans, with $200 off Ultimate using the code OURGIFT through Sunday, November 28, plus 25% off all plans throughout the holiday season with the code OURGIFT25.
Media is invited to request custom codes and other special offers for Black Friday gift guides by contacting hhawkins@insidetracker.com.
About InsideTracker
Founded in 2009 by top scientists from acclaimed universities in the fields of aging, genetics and biology, InsideTracker is a truly personalized nutrition and performance system. InsideTracker's mission is to help people add years to their lives and life to their years by optimizing their bodies from the inside out. By analyzing the body's data from blood, DNA and fitness trackers, InsideTracker gives a crystal clear picture of what's going on inside, along with a science-backed action plan for improving your health and becoming your best self. Read our peer-reviewed papers in Scientific Reports and Current Developments in Nutrition.
Follow InsideTracker on Instagram, Twitter and Facebook.
###