Ghostrider Revealed to Debut as The 2022 Air Force Marathon Featured Aircraft
September 21, 2021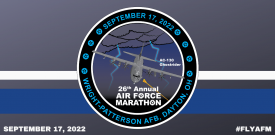 WRIGHT-PATTERSON AIR FORCE BASE, Ohio –Blasting its way in to be featured as the 26th Annual Air Force Marathon aircraft and to celebrate the Air Force 75th anniversary, is the AC-130J Ghostrider.
As the 2022 featured aircraft, the AC-130J Ghostrider is a highly modified C-130 which contains advanced features. Its primary missions are close air support, air interdiction and armed reconnaissance.
"For the first time in the history of the Air Force Marathon we are proud to feature the historic AC-130," said Brandon Hough, Air Force Marathon director. "The Ghostrider is the next evolution in a long line of gunships that have been serving our Airmen since 1968 and we look forward to it flying over the start line of the 26th Annual Air Force Marathon."
The Ghostrider aircraft is the fifth generation gunship that is capable of extremely accurate navigation and air refueling with the Universal Air Refueling Slipway Installation system.
The 2022 Air Force Marathon is scheduled for Sept. 17, to coincide with the United States Air Force's birthday which is the semi sesquicentennial celebration. For more information on the Air Force Marathon, visit www.usafmarathon.com
To learn more about the 26th annual Air Force Marathon featured aircraft, AC-130J Ghostrider, visit https://www.af.mil/About-Us/Fact-Sheets/Display/Article/467756/ac-130j-ghostrider/