GFNY Uruguay – Punta del Este 5th edition this Sunday
March 9, 2023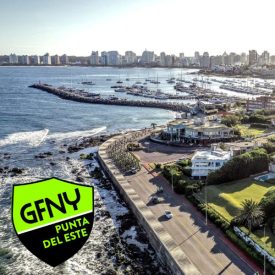 Riders will tackle an updated race course
/ENDURANCE SPORTSWIRE/ – This Sunday, GFNY Punta del Este offers riders a demanding 146 km race course with an elevation gain of 1653 m. Start and finish will be at Parador Pedro Figari beach club in the heart of the swanky Punta del Este, one of Latin Americans most famous beach towns.
"This race is one of the GFNY classics by now with a slightly updated course for 2023," says GFNY CEO Uli Fluhme. "For many riders in southern South America, it's their peak goal with fitness gained during the summer put to use."
"But it's also a great opportunity for anyone living in North America to open up their season in a destination that's just an overnight flight away – and no jet lag to worry about. The vibe in Punta del Este is unique and will appeal to families as well as single travelers alike. It's a destination that should be on anyone's must-have-been list."
The race starts in the heart of Playa Mansa, leaving town along wild beaches, pine forests, luxury homes and natural lakes up to the first important climb: the iconic Punta Ballena.
Race week activities will take place at Espacio Gorlero and to complete the incredible GFNY Punta del Este experience, there will be a post race meal celebration and awards ceremony.
Website: puntadeleste.gfny.com
About GFNY Global Endurance Sports Series
GFNY Global Endurance Sports Series is a sports event company with three decades of experience in racing, planning and organizing events. The global endurance sports brand hosts multiple events throughout the year around the world on five continents.
Working with partners around the world to deliver a first-class experience, GFNY Global Endurance Sports Series puts its athletes first.
Cycling
30-plus events held around the world. View the latest calendar here
Riders get to BE A PRO FOR A DAY ® by competing against others, themselves and the clock in a personal endurance challenge.
Top 10% (20% at regional championships) of finishers in each age group qualify for the Elite Qualifier Corral at every GFNY World event.
GFNY World Championship NYC
The 11th annual GFNY World Championship New York will be held on May 21, 2023. The race features the world's most international peloton with riders from over 90 countries. Athletes take on a challenging 100-mile route from NYC to Bear Mountain to Fort Lee to compete against each other, the clock and themselves in a personal endurance challenge.
The official GFNY website is: www.gfny.com.
Further Material for Media Use
Official GFNY Punta del Este Video: here
GFNY Press Images: here
GFNY Results: here
GFNY World calendar graphic: here
Previous GFNY press releases: here
Media Contact
Gran Fondo New York Inc.
Uli Fluhme, uli@gfny.com
Caroline Lindsay, caroline@gfny.com